I was talking with our new intern, David Leclerc, yesterday during lunch, and he asked me what I thought Google would look like in 10 years. He's working on an assignment at school on this.
It's kind of fun to think about. Google looks way different than it did 10 years ago. They expanding into so many different businesses outside of search and technology that they had to make a parent company, Alphabet, to keep anti-trust laws off their back and go into other industries.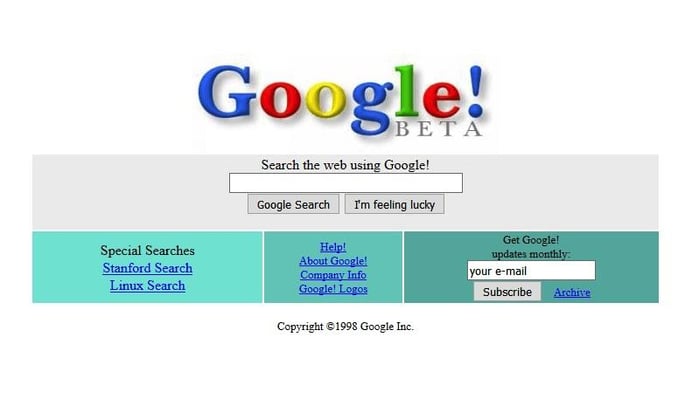 It's crazy to think that a company that was once just a search engine and ad network does so much more.
They have technology on self driving cars, an 8 billion dollar cloud business taking on Amazon, Business Apps, G Suite, etc.
Today, in year 22 of Google's existence, I'm going sell you on the idea of why Google should launch a CRM.
First off, Google has a history of successfully taking on market leaders and winning.
Sure we all know about Google's failures on their record, like Google Buzz, Wave, etc. However, Google has also had a ton of successes. When they launched search, they were taking on Yahoo, Lycos, and Altavista, and even secured replacing Yahoo's own search product. They were late to the email game, launching email in 2004. People said, "no one is going to move away from Hotmail, Yahoo, AOL, and Outlook!"
But look at them now! I probably could count on one hand the number of people I know who don't have a Gmail account.
Yes I'm talking about you, Mother!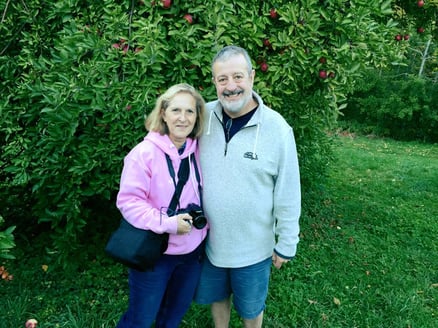 My mother (the one without the beard) somehow doesn't have a Gmail address.
In 2018, it was tweeted that Google had over 1.5 billion active accounts. Granted many are people with more than one account, but that's still crazy successful.
1.5 bixn users and counting. Thank you 😊 → https://t.co/1sm8jbRGkr pic.twitter.com/XaP9sfQT3i

— Gmail (@gmail) October 26, 2018
They then took on Microsoft with their business apps. G-Suite is a standard inbox provider today for businesses, taking a decent amount of Microsoft's market share with Office365 and Outlook. Google Docs replaced many Microsoft Office licenses and pushed Microsoft into a subscription business. Google Drive crushed market share out of Dropbox.
I haven't touched Android taking on Apple, or Chrome taking out Mozilla Firefox and Microsoft Internet Explorer. Google knows how to enter a crowded market, engineer and acquire users, and then integrate it into their platforms.
There are tons of CRMs out there. From startups and up and comers, to existing platforms that adding CRM features. For example, Hubspot added one to their marketing platform. Oracle acquired theirs, and Microsoft Dynamics has a decent foothold in B2C space.
None of them come close though to touching the dominance of Salesforce. Imagine if Google could take on market share from Salesforce, the same way they did with Microsoft Office?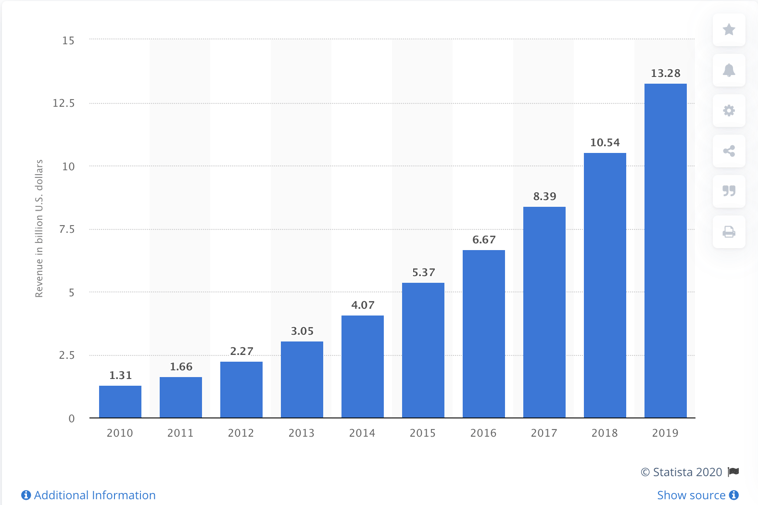 Salesforce's annual revenue since 2010.
So what would a CRM look like if Google made it?
I think the first thing that needs to happen is Google would need the CRM to be heavily leaning on the G-suite. They'd add a basic version of it to Google Drive. Emails from Google Apps would automatically log into the CRM, and all app users would be users in the CRM. That way if the CEO corresponds with a prospect, an SDR can know about it without the CEO buying a license.
Google Contacts would need to be completely revamped, and they'd need to build a place to put all their data. I think the CRM product would replace Google Contacts. Instead of having to fill up a CRM with contacts and people, it would automatically inject into the CRM based on interactions from the inbox and Google Voice.
Google Voice would need to become the way to do sales calls, and they'd have to scale the quality for it to send recordings into the CRM. Google Voice today isn't the most reliable, so as part of the CRM packages, it would need to be a scaled up to a better service. Google Hangouts could take on Zoom and other video conferencing applications by rebuilding the infrastructure, knowing it's for the CRM product.
Most people understand how to use Google Sheets, so they could do something for viewing reports and history on an account right through that user interface. Users could make reports, and have it push right into Google Sheets for results.
Calendar invites could convert into opportunities automatically after being connected with Google Calendar. If the person joins the Google Hangout link, it'll mark the opp as "meeting occured." If they don't go, the opportunity stage changes to REHEAT.
Prospects in the CRM would become objects..similar to sharing files on Google Drive. Reps could give access to their book of business with an on demand basis, which would help prevent reps from stepping on each other's toes.
A rep's Gmail experience would be completely different, injecting CRM data right into the workspace for the prospect.
Chrome would be a huge part of this whole suite. Reps could track what accounts they've visited and see Google CRM history right as they prospect off the web, saving the need to go back and check Salesforce. Chrome extensions like LeadIQ would save the contacts right into Google Sheets, and new entries in Google Sheets could be mapped right to CRM fields to create new records.
Now the biggest reason Google should launch a CRM.
All the contacts that are created in the CRM could become targeted for ads from the company using GoogleCRM. Reps and marketers could do all their Adwords bidding and campaigns right from the CRM.
Google is a giant slog of data. Imagine the B2B data they could work with if companies were helping them understand who they are targeting.
Google is SCARY big. This would disrupt the whole space, and all the different eco-system of Salesforce tools and partners like LeadIQ.
Apparently they are now rumors of Google acquiring Salesforce, but I think Google would be better off launching their own, and quietly take some of their market share.
To summarize, here's why Google should launch a CRM.
To acquire better data for targeting and experiences for advertisers on Adwords.
It's a huge industry that fits right into their different product portfolios.
It'd push other CRM companies to innovate and make their products better.
It finally helps monetize Google Drive, Google Apps, and their other business applications.
It would eliminate the need to purchase 5-10 other vendors for each company.
What are your thoughts?