Today I'm going to talk about some ways you can fix a rep who isn't hitting their opportunity quota. I'm not sure how this happened, but I'm a huge sucker for Karate Kid. It's pretty much a PG version of Rocky, with less complex themes. The movie even shares a director with Rocky, John Avildsen.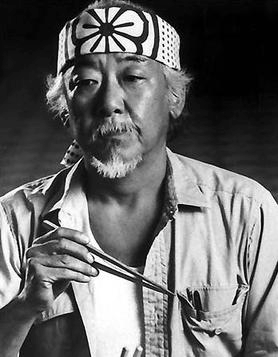 One of my favorite quotes from Karate Kid is something Mr. Miyagi tells Daniel Larusso.
"There's no such thing as a bad student."
Obviously there are a few exceptions. However, today I want to talk about what you can do as a Sales Manager to help figure out why your rep isn't hitting quota with prospecting.
Let's jump in.
First you need calculate your team's Prospecting Efficiency Score.
First things first, you need to calculate your reps Prospecting Efficiency Score. We tackled this equation on the blog a few weeks back (further reading)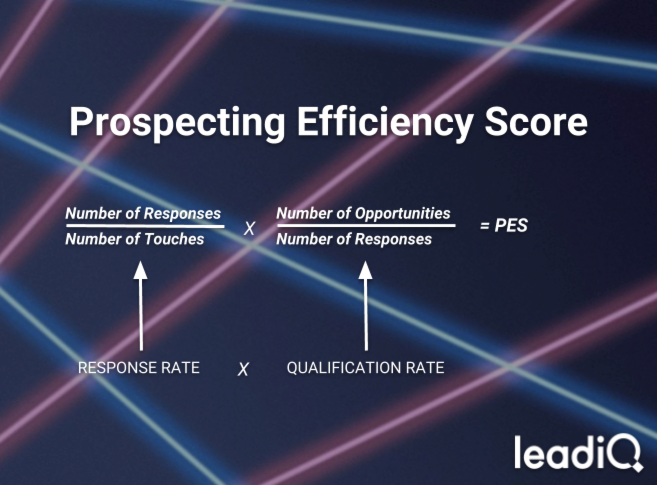 Calculate your Prospecting Efficiency Score for your entire team. In order for a solid PES score to work, you'll need to have a rep hitting quota to help set a benchmark.
For part 1 today, let's break down low response rates, and how to coach them up.
When your rep has a low response rate
If a rep's response rate is lower than the quota carrying reps, they likely need help on cold emailing, cold calling, and social.
If you want to try and save your rep from not hitting quota, you're likely going to have to sit down with them and micromanage them a little bit. It doesn't have to be naggy. Get hands on and inspire them. Showing a rep how you may approach a prospect can be a huge difference and help them break bad habits.
Whenever I sit down in the back room of our office with a rep, this is almost what it feels like going through prospects one at a time with each other:
We start understanding what things they are missing as you watch them. What are things they aren't getting to in their outreach? Are they missing pain points on a call?
For all could outreach, I recommend following this format to increase response rates. Make every touch answer these questions:
Why are you contacting me?
How am I as a prospect to you? Why are you picking me?
Who are you? (one sentence only..use your email signature for the rest)(
What do you want me to do? ONE GOAL MAX.
If you follow this formula of answering all these questions, you should see your reps come up with more replies, and yield a higher response rate.
Another thing that could really help your reps get higher response rates is coaching them on how to research their prospects. Teach them on what things they can bring up on a cold call or cold email.
John Barrows says to have 4-5 research points to always look for.
Here's an example. Let's pretend that I'm prospecting Kevin Dorsey.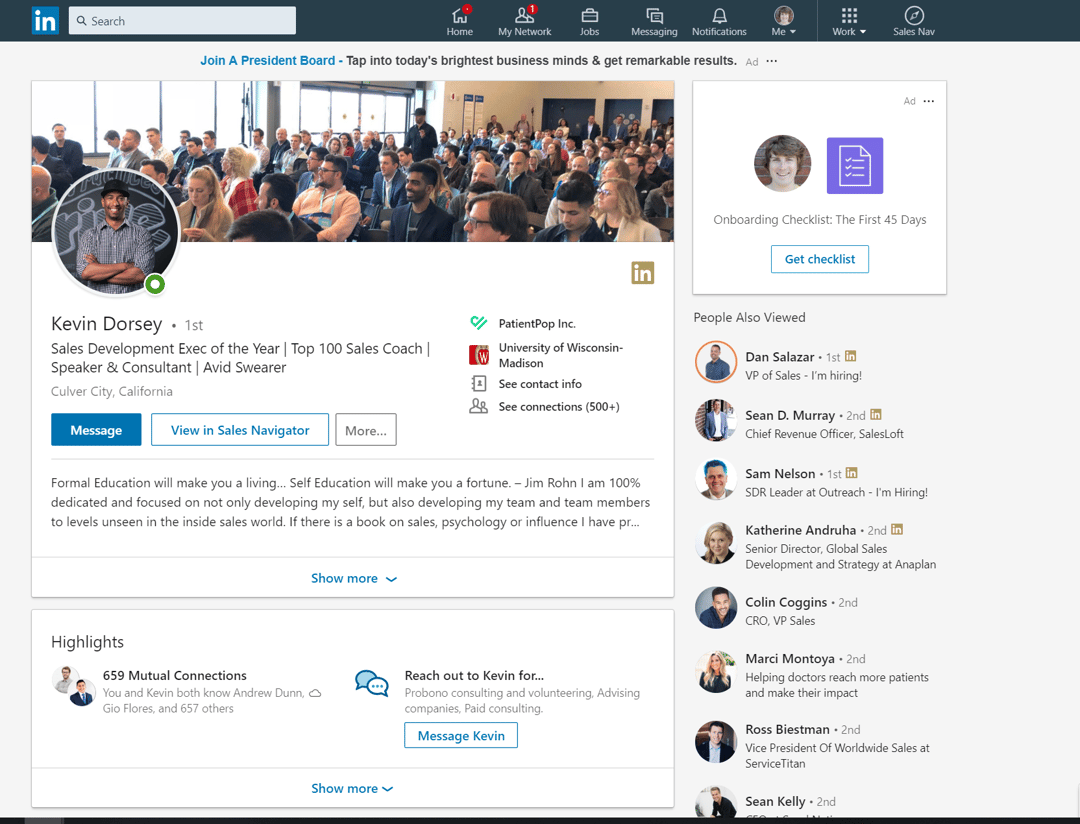 Kevin Dorsey is a sales leader I respect.
Kevin is a well respected sales leader. He's featured in podcast, he constantly posts content, and he also has been nominated for many awards over the years.
A rep with a low response rate may try and sell to Kevin without bringing up the tons of research points you could say to get his attention.
Here's a mock email from a rep that I made that would most likely not get a response from Kevin:
_Hey Kevin,
Given your role as a VP of Sales at PatientPop, I thought it'd make sense to reach out. LeadIQ helps companies get contact information into their favorite sales tools right from the web.__
You can get full phone numbers, emails, and it all pushes into your CRM.
Are you trying to speed up the time it takes for your reps to prospect? Can you talk for 15 minutes next Tuesday?
Rep
I've seen many emails like this in my inbox. The thing is, with the right coaching, a rep can learn to open up and make more of the email about Kevin.
I'd likely look for links where Kevin is featured and what he is posting on social.
For example, Kevin recently posted about building out a bunch of email templates for his team: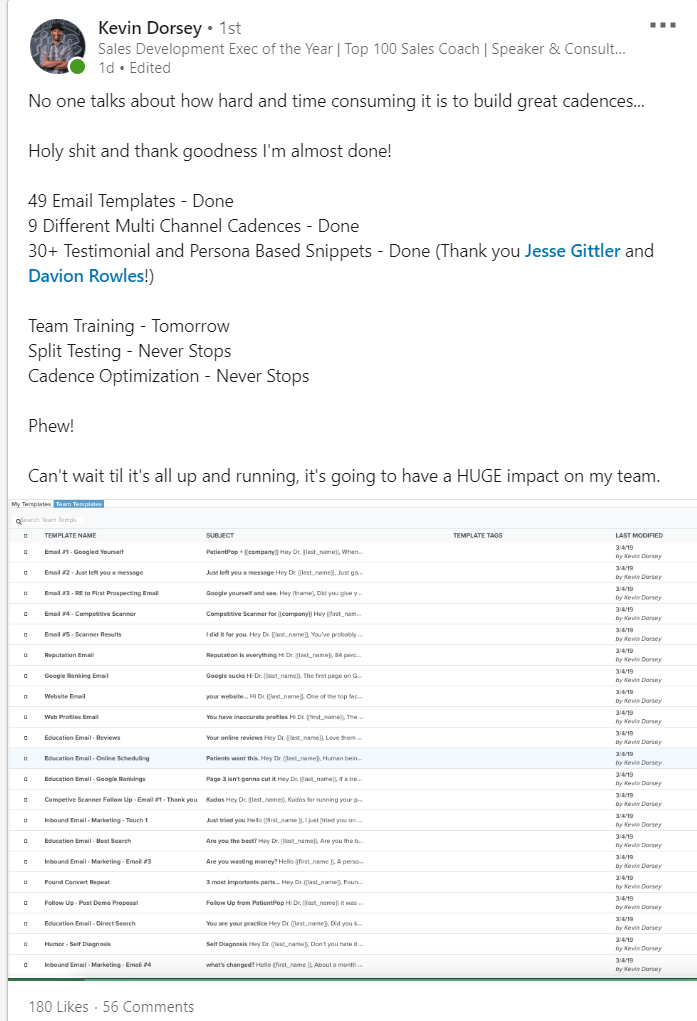 As a manager, if my rep was asking for an angle, I'd probably find a way to tell Kevin how you are reworking your cadences as well and relate to Kevin. You want to get in the hole with Kevin.
I always think of this scene from The West Wing that is the perfect metaphor for having empathy:
So this may be a way I'd email Kevin:
Hey Kevin,
I saw on LinkedIn you mentioned you just made 9 new cadences for your crew at PatientPop. I started working on some new ones myself. I found it really hard at first, but once you get in a rhythm, it's exciting to watch how they perform. I was curious if you'd be up for talking with us?
We usually cane speed up the amount of time it takes to add prospects into cadences so your reps can test them faster.
Figured if you had fun building emails, we could speed up how quickly reps can get prospects into those cadences. What are your thoughts on talking?
Rep
This second message would perform a lot better in most cases because it's personalized to the specific prospect, and it also is personalized around the reps experience building their own cadences. This creates a sincere human connection.
The best way to teach a rep how to research their prospect is just sit down with them, and do a few examples, then ask them to do this.
Look for trigger or history you can bring up with the rep. Do they have mutual connections? Have they done anything with people you know? What content have they put out here? What achievements were they part of? Do they have any interests anywhere that lines up with your interests?
As you are working on the research aspect, another thing you can do to help your rep get more responses is coach them on lining up their value proposition to the role and industry the person is coming out of.
In Kevin's case, he is targeting doctors or folks in the medical field, so maybe I would mention that ingrained in my value prop. In this case I use the language of Kevin using SalesLoft for personalizing the value.
A few other tips to increase response rates:
Be yourself when you prospect, and talk about your experiences.
Make your prospecting more about your prospect than your company.
Lead with talking about your prospect whether you are on the phone or over email.
Stay away from buzzwords.
Don't use templates or phone scripts. This will hurt your response rate and your brand.
Be creative. Do a pattern disrupt, and find a way to stand out.
End the email with open-ended questions.
Ask your friends if they'd respond to you?
Stay tune for Part 2 coming soon to a blog near you.