Synergy, globalization, stock photos of handshakes! Yuck. Get excited suits. These are things that come to mind when you hear cool business terms. If you are working in sales or marketing, one term you may have heard is "total addressable market," or "total available market," or as the cool kids abbreviate it, TAM.
Today we're going to discuss what is your total addressable market, what does total addressable market mean.
What does total addressable market or TAM mean?
Your total addressable market is a measurement used to evaluate your revenue opportunity available for a product or service.
From the relics of Wikipedia, TAM helps to prioritize business opportunities by serving as a quick metric of the underlying potential of a given opportunity.
Let's go through a fake example with a fake SaaS company to explain it.
Here's an example of total addressable market.
Let's pretend that Rishi Mathur on our team was making a startup that helps you measure your website and application traffic. Rishi's product is a more robust version of Google Analytics. His fake analytics company is called Rishico Inc.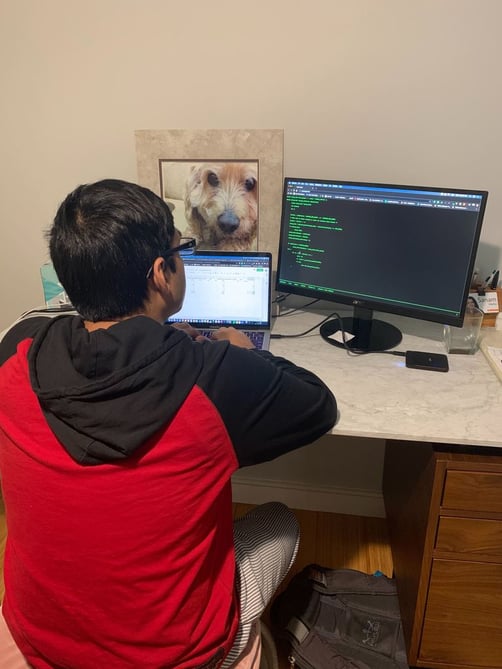 Rishi working on his fake startup
Rishico competes with companies like Localytics, Heap, AppAnnie, and MixPanel.
We're going to analyze Rishico's TAM.
How do you measure your total addressable market?
Rishico needs to focus their marketing and sales efforts with customers who have actual need. Measuring TAM is a little different for each specific company.
In the TAM world, we think it's best practice to assume your competitor's customers have need, even though they are already paying for a service or product.
Obviously there are restrictive boundaries that you must take into effect. Here are some basic criteria for Rishi to calculate his total addressable market.
Rishico's customers have to use Google Analytics.
Rishico's prospects must have a significant amount of web traffic.
Rishico's target accounts have to mainly conduct business online.
Rishico's product has features best used for B2B companies.
So knowing these criteria, he'll want to start from the bottom up. He'll want to look at how many B2B companies there are, then factor if those companies mainly conduct business online. If they don't, they likely are not part of his TAM.
In this example, as he's trying to measure his TAM, he'll likely want to look at a current customer's web traffic right now, and compare that other prospect's web traffic. If I were Rishi, I'd probably run through an Alexa ranking, then find out how many companies are in front or around that solid customers he has.
Let's pretend in this example, LeadIQ is a customer, and we are ranked in the 138k range for web traffic. There are likely many companies to go after that could be a solid target prospect for Rishico.
In this case, we're starting with at least 138,000 other targets. Now we have to whither away parts that don't fit.
How many of those are B2B? How many of those companies are using a competitor? How many use Google Analytics?
It's pretty confident to guess any company in this web traffic range is using Google Analytics, so now it's down to the B2B question.
As a sales leader, you'll want poke around with some other companies in the space and gauge a minimal threshold to calculate your total addressable market.
If you are developing your business, or have some traction, but want to evolve it, you'll want a large total addressable market, or you'll have to shift your product, pivot, or build another product/service.
You'll want to be sure to study competitors as well. How many companies can you find using a competitive solution?
A quick search of companies posting about MixPanel.
How do you use total addressable market with prospecting?
As much as we want to use this high level definition of TAM to help leaders, leaders have to also help their sales teams understand their target.
Cold email, social selling, and cold calling can all help with prospecting, but if you are going after an account that doesn't fit into your TAM, you're going to be wasting your time.
Setup a few ground rules for your reps to identify target accounts. Do keyword searches on LinkedIn Sales Navigator, look at the words described in job searches, and eye ball competitor's reviews/case studies out on the web.
For Rishico, Heap has 340 customer reviews on G2.
If you define what should be included in your total addressable market, and make those intentions clear with your sales team, it will speed up their prospecting and increase response rates.