Building a robust sales tech stack is kind of like building a sports car. I'm a guy that knows very little about sports cars except "does it look cool?" and "is it shiny?". I know one thing though..if people call something a sports car, it's expected to kick ass and be fast.
A goal for any sales leader, operations, or sales enablement person should be to make your team fast, measurable, and effective with each activity. If you've accomplished this, you've done well. However, how do you get your reps access to prospects?
Given that we help companies with giving that access with contact data, and speeding up the process of adding it to the CRM, in a lot of ways, we are the tires of your tech stack. Today I want to talk about why you should consider adding a second data provider to your tech stack, whether it's us or someone else (GASP!!! Yes that's right!!).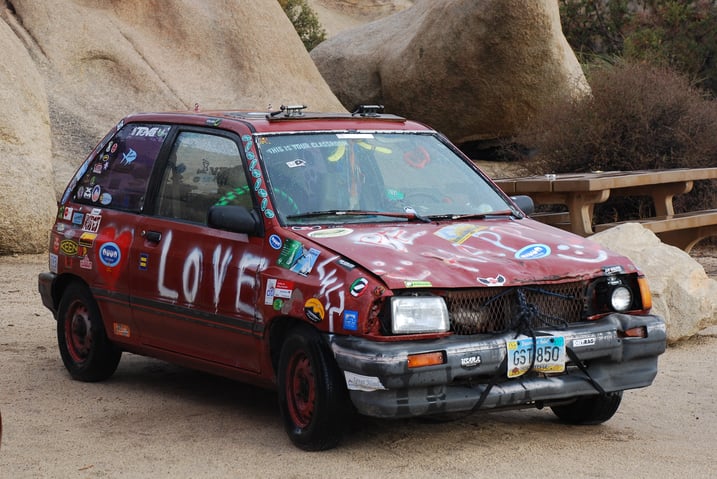 The good old sports car!
Before we jump into this, I want to make it clear for the sake of this content, I don't consider LinkedIn Sales Navigator to be a data provider. If you used properly, combined with LeadIQ, it can fill that gap, but I consider Sales Navigator to be more of the researching tool.
Now that we got that out of the way, let's jump in, shall we?
Benefit #1: Adding a second data provider widens the number of prospects you can work per account.
We usually recommend that you work at least three different contacts at a company at any given time when doing outbound prospecting. Once an opportunity is qualified, you'll also want to have at least three contacts to increase your chances of building internal champions to push your opportunity to close.
The concept here is to use the Triangle of Influence when you sell.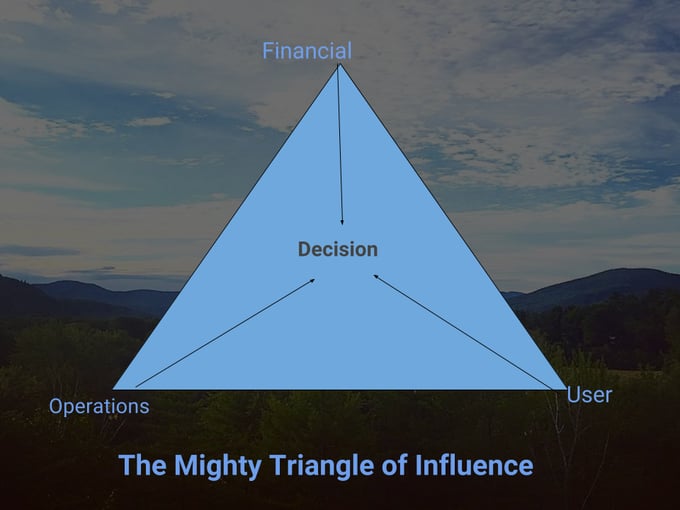 This means having your team hit up the implementation team, the user, and the financial decision makers when you prospect.
One of my favorite ways to do this is just going through an account on LinkedIn Sales Navigator, picking a few contacts based on their job descriptions and titles, and adding them into Salesforce with data enriched in real time by LeadIQ.
You can read a profile within 30 seconds to 1 minute to know if a prospect is a good contact or not. A good prospect should fit into one of those three roles in your team's Triangle of Influence.
Now this workflow is great, but sometimes you may need an org chart to see who is in charge at that specific company. This is one of the cases where you can guess looking at titles, but sometimes the best way to fill in those gaps is to use another data provider to get insight into their org chart.
If you are at a bigger organization that only gives you 20-30 accounts per quarter to target, you can blow through a database provider's contacts quickly. Leveraging LeadIQ in addition to your other data providers can make it easier for you to map out your target account's org chart.
Organization charts get dated quickly, but you can usually follow the org chart onto LinkedIn to start your search. LeadIQ, for example, does not (at the moment) provide you with an org chart, but we make it super easy for you to get direct dials, work emails, and cell phones based on the work you build within an org chart.
Finding an org chart can be like this scene from It's Always Sunny in Philadelphia
Some of the other data providers out there have org charts. This can be a nice way to start your prospecting.
Pro tip: If you want to build an org chart on your named accounts, I recommend building it with Lucidcharts, and trying their Salesforce integration.
More providers means more contacts at each account.
Benefit #2: More data providers means more coverage.
This is very similar to the first benefit. However, this is focusing on provider's advantaging on an account level as well. If you've tried any data providers out there, it's no secret that no database is perfect. When I worked at Dyn almost 7 years ago, we juggled Data.com (which has been retired by Salesforce), Zoominfo, and InsideView.
We originally leveraged and used Data.com to get contacts at different organizations, but we found a lot of their data to be out of date. See when Data.com first launched, it was called Jigsaw, and the way they grew their database originally was by having people give contacts to get contacts. This works great in the short term, but over time that data would get dated and stale.
As with most nice things, crowd sourcing data led to abusers just uploading useless fake contacts to get credits. Others would just upload their dated address books.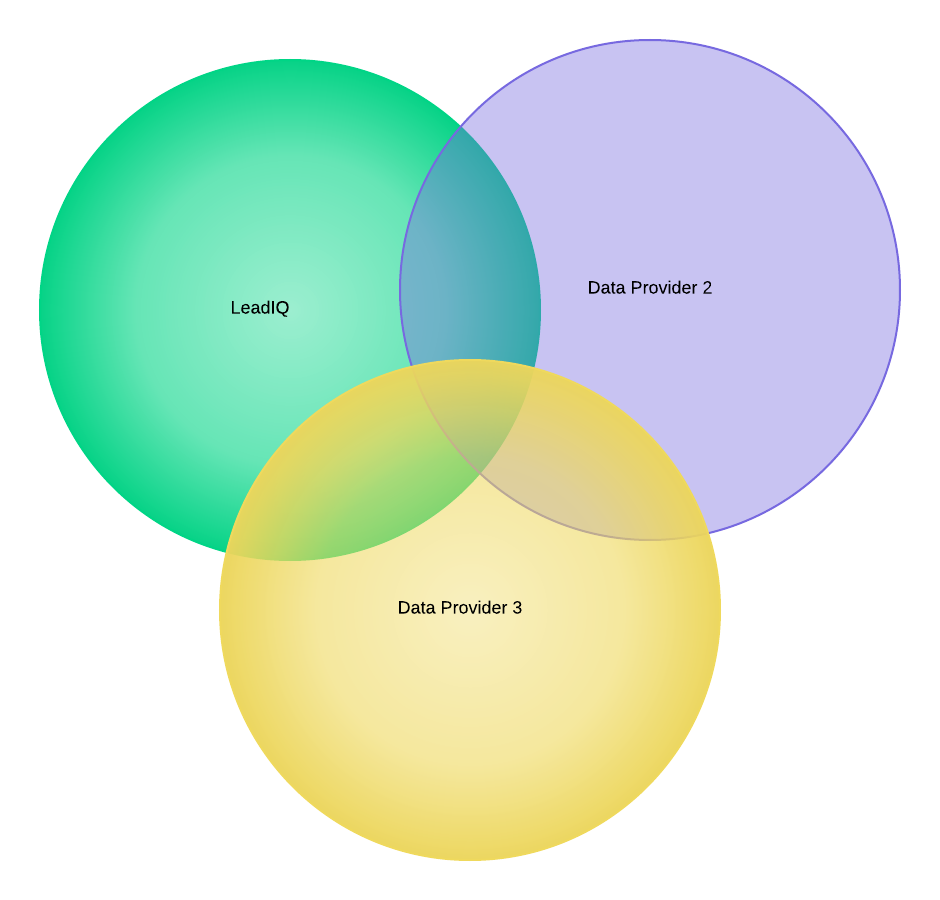 A lot of data providers don't overlap in all the same areas. This opens up the whole world for your reps.
If your team is executing an Account Based Selling strategy, some data providers are better for finding accounts, while others are better for finding contacts at those accounts.
In our organization, we use our own product for sourcing contacts for accounts, while using a few providers to help us find accounts to prospect.
Having more than one data provider, after not finding the right data, gives your reps a fallback route so they aren't blocked from getting access.
With LeadIQ, we have four types of statuses on emails.
Emails that we can verify get a green check mark.
Emails can deduce the address through logic get called "likely."
Emails that are unverified meaning we couldn't use technology are marked as "unverified."
Lastly, emails with X are reported as bounced by our users using our Data police feature.
One thing we do to be different from other providers is give you multiple email statuses so we can still attempt to find phone numbers on the prospects you are going after. Most providers who can't supply a complete profile don't bother giving you any of the information. If you use another provider, you can enrich the blank parts we couldn't find with their data thanks to us finding the initial data.
This means that if we can't find an email, we can still try and find you the phone number for the contact and firmographic data. In the event that we can't find that either, or your other data provider can't find the contact, your team doesn't have to give up on the account. They can simply check their next provider.
So my old workflow back in the day would be something like this: Find good account -> Look them up in Data.com -> Find the right contact -> If there was no contact, move on to the next account. I just wasted 3-4 minutes on an account.
Some database providers are great in a few industries, while struggling in others. As your company gets bigger and your target account's start to widen, you'll want to have that coverage handled and fully integrated to eliminate bottlenecks with your team.
Benefit #3: Having more than one data provider helps keep your CRM data cleaner.
Remember, the average person in the United States changes jobs every 18 months. It's very easy for a provider to deliver you information that may be several years old, especially the human verified database providers.
We actually wrote about the importance of good data hygiene recently. Bad contact data can not only lead to wasting time on a first touch, but several touches if the reps aren't trained to report the bad data.
Think about this for a second. If you have a provider who has 200 million human verified contacts (like many providers claim to have), how is that provider possibly keeping that data up to date every 18 months with humans?
If you do simple math, 18 months is roughly 547 days. That means that in order for data to stay accurate, as a team, a provider has to connect and confirm data with 365,630 prospects a day.
When you have a solid data provider, the range for connect rates on a number can be anywhere from 2-10%. Since these numbers are being confirmed all the time, if a company has 500 humans calling contacts all day to verify them and hitting a connect rate of 2% with these questionable phone numbers, they would need to confirm 731 contacts a day per person to keep their human verified dataset current. It just isn't possible. Bounces and bad data are going to happen no matter who your team uses.
Having more than one data provider opens up the world for your team to put data into your CRM, and in the event they have a bad phone number or email, the rep can easily check for contact info with their second or even third provider. No need to rewrite an email, or redo their research. They can just try the new data point and reuse the content from what they just did.
This is huge, and will impact the next rep who comes in and tries to target that account, so they don't see this:

Making it easy for your reps to rip and replace parts of contact data that are bad with one with provider with someone like LeadIQ will help keep your data hygiene clean.
Benefit #4: Some data providers are better for certain workflows.
There are tons of data providers out there, but even more workflows. This means some providers are better for different scenarios your reps may run into prospecting.
For example, for your tier 2 and tier 3 accounts, you may want your reps working more inside their CRM. There are a few providers who have native Salesforce apps that make it easier for reps to dig for new contacts in the CRM. I actually find this workflow to be better for Account Executives who are prospecting or trying to find new contacts in their existing opportunities to go after.
With the tier 1 accounts, they'll want to read and research their prospects online. That means they may want to use a data provider that works along side online sources like LinkedIn, company blogs, or a company website.
Process is important, but giving reps flexibility to be enabled no matter where they go prospecting throughout the day will make them happy, fast, and more effective.
There is no perfect provider, so evaluate several providers for their strengths in different workflows.
Benefit #5: The return on investment with data providers is usually covered after just one month of prospecting.
This is something lot's of SaaS companies say, but it's true for data providers in the sales space. If you are selling a B2B product or service that isn't making your company at least $1500/year in revenue per deal, you most likely don't need a data provider. This is obviously disregarding the length of your team's sales cycle.
A sales rep is going to bring in at least 10-15 opportunities a month minimum to justify their role at a company. Most outbound deals have around a 20% close rate. So 2 deals closing should cover about at least $3000/year in revenue.
That means if a rep's quota is to product 10 opps a month, 2 of those opportunities will close within the next 90 days. Generally speaking, a data provider will cost your company somewhere between $120/month to $600/month depending on your vendors. The nice part about your space is most revenue is recurring. So you should see ROI for all your data costs within a quarter, but in most cases, in just 30 days.
Why bottleneck your sales reps with only using one data provider, when enabled properly, most will give you a 12-200x ROI in your data provider spend?
If your sales team's process is a sports car, all that power and speed is just going to waste with low end tires.
When it comes to cost, prospecting data is the most direct way to see ROI from your sales team's efforts.