For those of you who don't know, we like to host a little something called RateMyPitch. This is where we put together a panel of sales experts and have your cold emails rated live in front of an audience. Even if your individual email isn't chosen to be rated, you will obtain valuable feedback from the experts themselves. You will be able to take with you what crafts a good cold email, everything from structure and size, to how to make a subject line that will increase your open rates.

We recently hosted a virtual RateMyPitch on Thursday, September 17th. We had such positive feedback and more people asking to have their cold emails rated; we decided to host a Part 2 on September 24th!
For those of you who missed our two sessions, I'm coming at you with the important stuff.

First, let's start with properly introducing our panel. Our three cold outreach experts were Josh Braun, Dale Dupree, and Ryan O'Hara.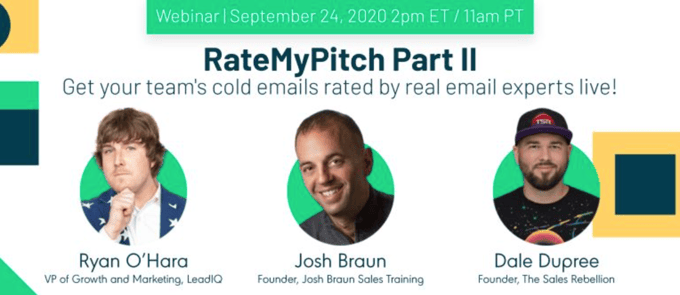 Josh Braun, founder of Josh Braun Sales Training, helps people start more conversations over email without manipulating prospects.
Dale Dupree is the founder of the Sales Rebellion, where he offers 1x1 Sales Coaching, Sales Training, and Sales Mentorships.

Ryan O'Hara's the VP of Growth and Marketing at LeadIQ. Before becoming the VP of marketing, he helped grow LeadIQ through prospecting, and even before this, he was a BDR at Dyn, where he helped build their client lists to the thousands while doing sales training therefrom 3-100+ reps.
Anyways, what was the important stuff? Here are the reoccurring lessons from the two webinars.
4 Reoccurring Themes for Cold Emails
Ask open-ended questions

.
Your goal with cold emails is to get a response, not an immediate meeting. Ask open-ended questions. Your goal, again, isn't to get the meeting but rather to get a response.

Never ask for a specific amount of time. Instead, try, "What are your thoughts on talking?" or "What are some of your goals on X?" When you ask open-ended questions, you receive more information on how you can help your prospect.

"I Noticed" or "I saw" is a great way to open up your email with.
When people feel like they are part of a group they are less likely to respond...make it feel like this email is made for them and them only..."Noticed that", "Saw that", "Noticed on your site" are good ways to start off your emails.
Shorter emails are superior.
The fewer words, the better. Leave out the fluff. Get to the point; don't waste your prospect's time.

In a study of over 2.1 million customers, emails with approximately 20 lines of text had the highest click-through rates, which translates to about 200 words.

Your prospect doesn't care about your product; They care about what your product can do for them.
By this, I mean they only care how your product can help them with a specific problem they knowingly or unknowingly face. Don't go off in a tangent about all the features your product possesses. You need to specifically relate to how you can make your prospect's life easier. What problem does your prospect face that your product/service can solve for them.
Drive curiosity; use a quick sentence to drive interest on a specific pain point and make them think. This will drive a response. Better yet add a video explaining how you can solve this specific problem.


"Just because something is personalized doesn't mean it is personal… it is perfectly okay if you can't find relevant personal information, and personalizing in the sense of relevancy to how I can help this person kick more ass at their job"
-Josh Braun
How you Should Judge your Cold Emails
6 Things to Note when Creating a Cold Email:
Your Subject Line
Length & Spacing
How am I Special to You?
Why are you Contacting me?
What do you want me to do with this email?
Who are you?
Let's take a quick dive into each.
Subject Lines
A good subject line is vague enough to draw an open, but also relates to the body of the email.
Subject lines should not look like marketing emails, and they should not look like they can be sent to multiple people. Relate it to the individual so it won't go straight to spam, and the prospect knows you're not a robot.
35% of recipients open emails based on the subject line alone. Before sending an email, look at your subject line and ask yourself, "would I open this email?".
Length & Spacing
Don't send an email with large paragraphs. Nobody wants to read that. Keep it short and to the point. Business professionals view their time as money... if you're wasting their time with a long email, you're wasting them money.
Always try to get your cold email length as close to one smartphone size as possible. If you have to scroll on your smartphone to finish the email, it is probably too long.
Another thing to keep in mind is avoiding using vague business talk. Avoid buzzwords and business-speak. Basically, avoid things you'd never say in real life.
How am I Special to you?
Prospect the person, not the company. You shouldn't assume the people you prospect like their job. Lead with something to do with the individual, not the company.
Josh brings up a great point about social loafing. There is psychology behind social loafing and why people are more likely to respond if they feel uniquely qualified to do so. If what you have written in that first sentence of your email could have been sent to 100 others, the prospect is less likely to respond.
"Biggest advantage you have as a prospector, you have a chance to make a really good first impression."
- Ryan O'Hara
Why are you Contacting me?
Make your point clear on why you are reaching out to the prospect. What can you help them better improve on? How can you make their job easier?
What do you want me to do?
You should only have one Call To Action for an email. Whether that's getting them to respond to a question or getting them to watch a video, people will get confused when you ask them to do too many things and, in return, will not do anything. Make your CTA clear. An open-ended question is a good way to get prospects to respond.
Who are you?
Never add a sentence or a long paragraph introducing yourself and what you do. That's what your email signature is for. Your email signature should have all the answers to their questions about who you are and what you do. Make your email signature stand out.
How to Personalize
When it comes to actually finding information on a prospect to personalize emails, many reps don't know where to begin. There are many different routes you can take on how you want to personalize your cold outreach.
7 Locations to look for Personalization:
About section of LinkedIn
This is where they personally describe themselves and what they care about. You are getting valuable information straight from the source.
Recommendations/Mutual Connections
The recommendations portion of LinkedIn provides quotes that people have said about them, secondhand information. It is also great to reference someone both you and your prospect know. You are building rapport.
Published Content:
If you have a prospect that publishes their own content, a great talking point is referencing a specific point in one of their posts or articles.
Comments/likes on posts that relate to what you do/can help them with
Hobbies/Interests
Find uncommon things that others wouldn't mention, stand out ad show you've done your research.
Company Page/Social Media
Google the prospect
Closing Thoughts
The average email throughout the two sessions was rated a C/D on a generic A-F scale. This needs to change! Your job doesn't have to suck. You can make authentic and real connections with your prospects. You can uncover pain points easier than you think and help other people enjoy their jobs a little more.
"It's time for people to start loving what they do and giving people the experience they deserve, we have to be selfless."
-Dale Dupree
Show your prospects they are interesting and important to you. Make a great first impression that makes your prospect feel good.
"Shift the perspective and learn a little more about your buyer. Learn how your prospects are making progress today and give them the answer to improving on that.

Get on the same page and talk the same language as your buyer. Everything else will fall into place.

It's not about selling. It's about the buyers struggle."
-Josh Braun