Content creation has slowly become the driving force of every company. As the internet grows, people resort to the internet more than they do to actual people.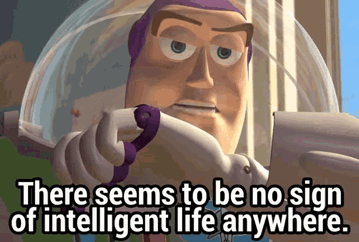 When Leadiq started to pump out videos and blogs the results were more than satisfactory. We specialized in creating important tools for sales representatives. With every video watched our customers wanted more and more.
However we ran into a slight issue, despite all of our content being on LinkedIn, it was scattered. There was no organization and often times people would miss out on content that they could have benefited from simply because they could not find it under all cat videos.
So, Ryan O'Hara had this insane vision to create a platform where we can consolidate all of our work, but we didn't just want our work on the platform.
He had a vision of there being a website that was basically Netflix but for B2B sales organization. Then called me in and told me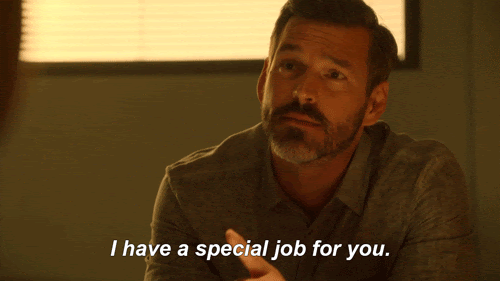 From that idea came the birth of Outbound.TV.
When creating OutboundTV we wanted to have an organized platform for all of our content. On our new site we created weekly shows, podcasts, and blog posts, free for all customers. The result was a hub spot for all sales learning and entertainment. An office for everyone who wants to be creative with a purpose.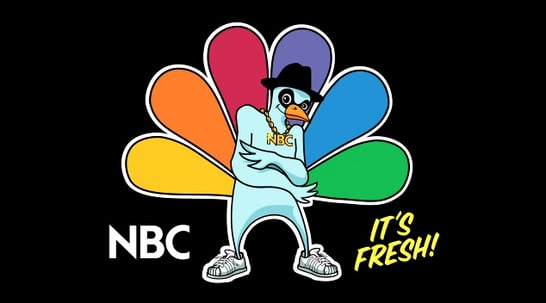 Nowadays there are so many different content sharing sites, from YouTube to Vimeo, but none really fit our objective. We wanted to create a platform for sales representatives, we wanted it to be unique and not have just any content on the site - but content that has been vetted by us to meet a certain standard. A standard that cannot be reached by other sales sites.
At first glance most sales videos can be boring, our mission was simply to find all the top sales influencers with the most exciting content and have them join our platform. For about a month we created a spreadsheet and listed out all of the top sales influencers, and over a course of 2 months we reached out and spoke with them to develop content for Outbound.
On OutboundTV we want to showcase that business does not have to be lame and boring. The content posted is not only beneficial but also creative. You can add color to more than just your Excel column themes
OutboundTV wants to expand. As we created more we realized that we could include other people. Having more channels and more creators has the potential to lead to a more diverse audience. This allows our brand to constantly evolve as well as our content. We want to deliver ideas that will help people learn and not be the same rhetoric.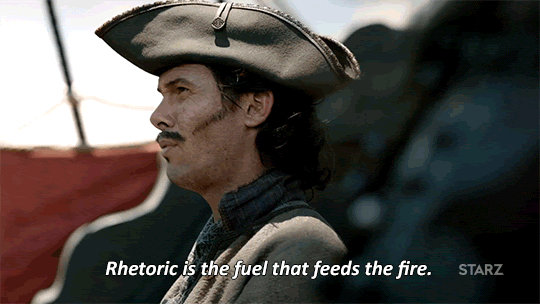 The site can be the next hub for sales content. We want to allow other people to post and share content as well. OutboundTV aims to be a resource. If you are a sales influencer, SDR, or work with finance, OutboundTV is happy to include you. We make sure everyone's needs are covered and content is seen, unlike other sales sites.
So as we started to build out the site, we tried to figure out how this site will look and feel. After many brainstorming sessions of watching John Wick and playing Vice City, we had our EUREKA moment!
We wanted it to feel like a public access show. Like a very low end production, bright neon colors. It was the perfect idea.
So we ventured off and began laying out the templates for the site.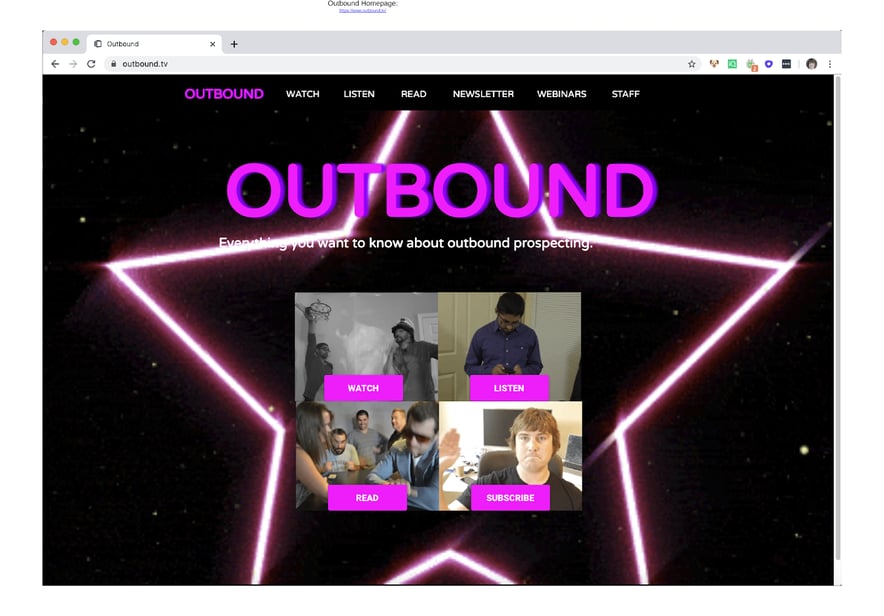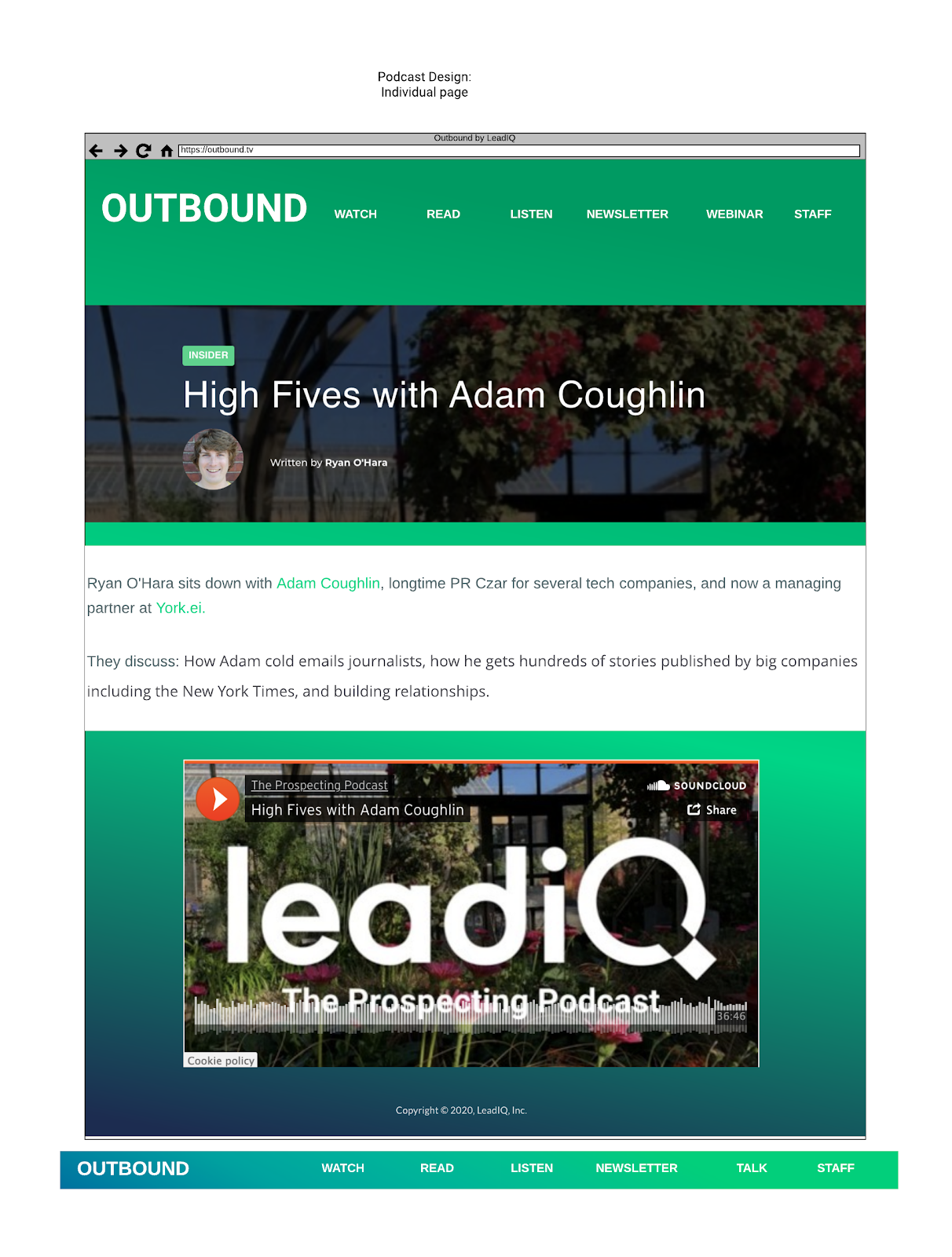 We designed each individual page and then sent these designs off. To have them built.
BUT something was missing. Ryan and I felt something was off and that we didn't create the best mock ups and our site wasn't feeling right.
Then our design expert came back with….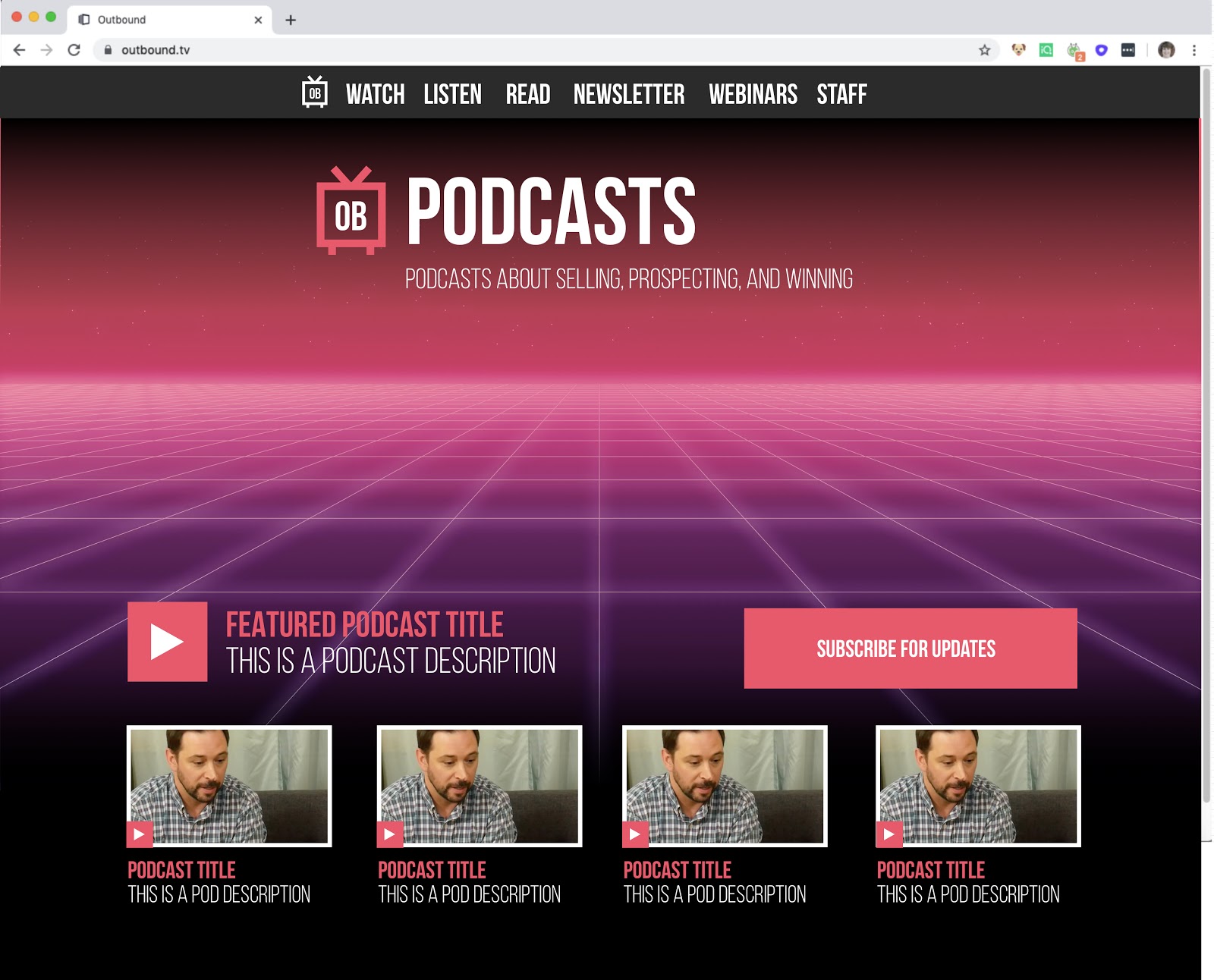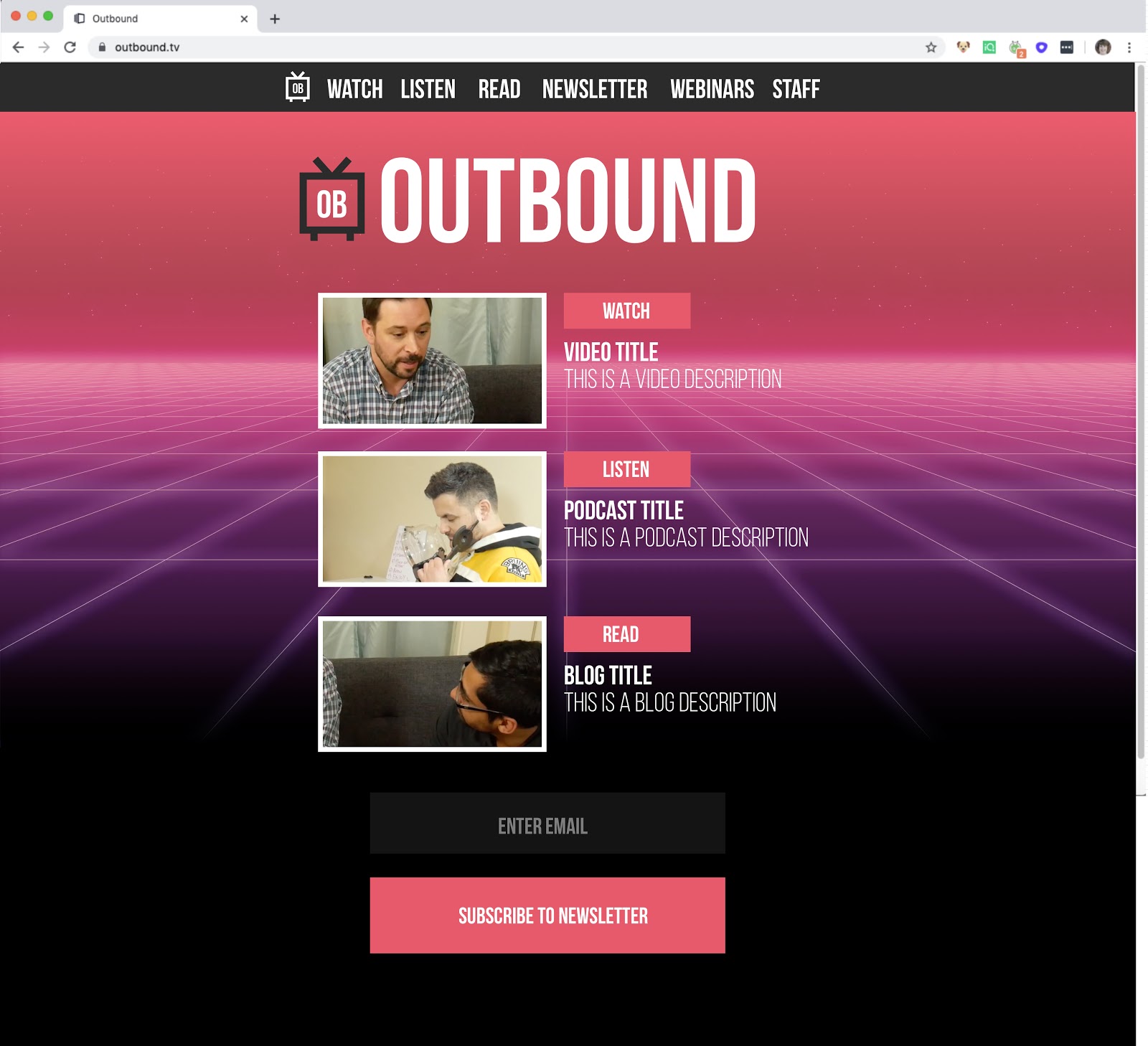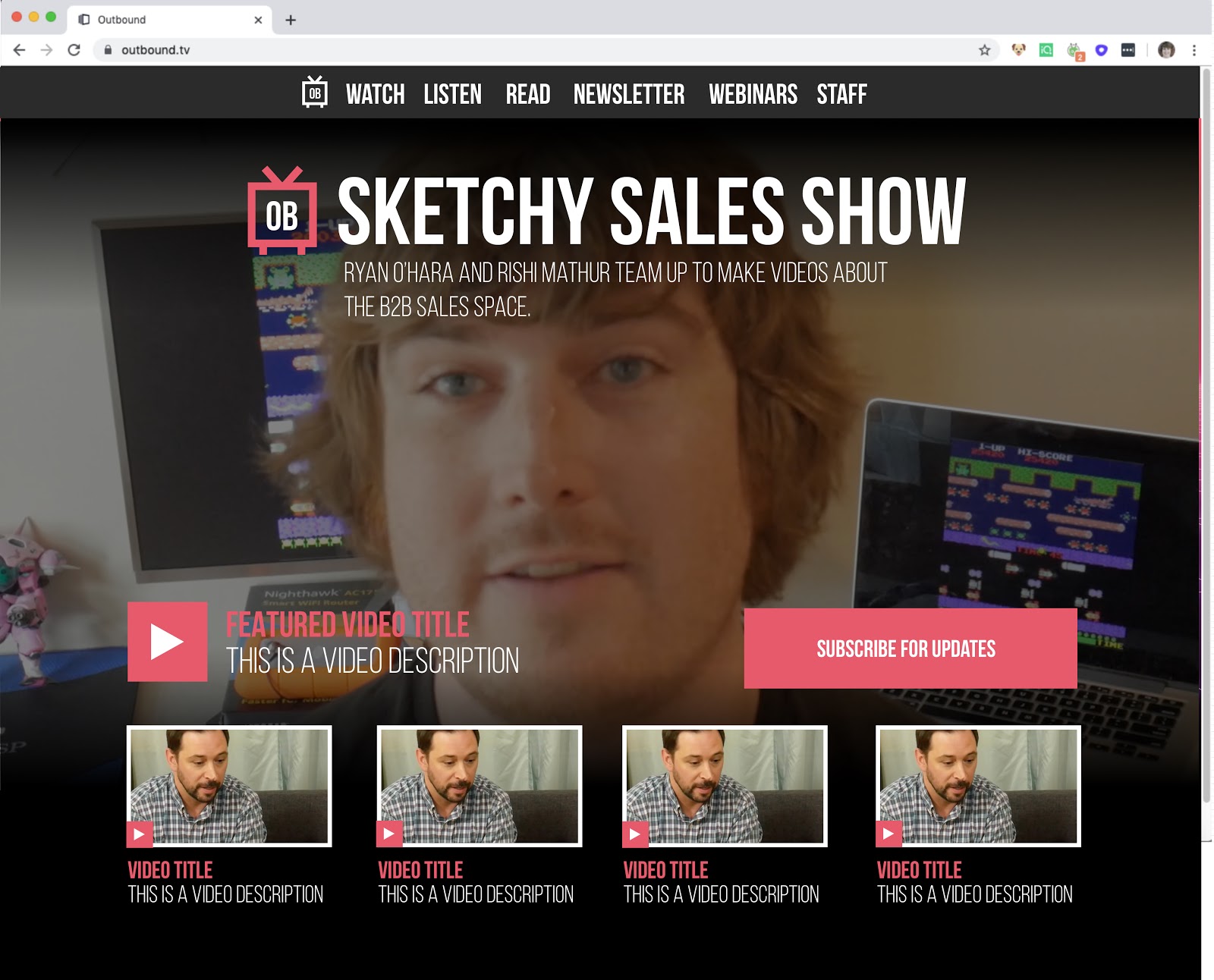 This threw us over the edge, we were reinspired.
So after creating our first Wordpress site, we started to mess with it and slowly we things started to make sense.
But still the design wasn't 100%, we knew the logo of a TV wasn't what represented the site although it was really cool we wanted something simple.
So after many iterations we came up with….

Simple, yet we needed it to include a dark background and you get.

This moment right here is what turned it around for us. We knew at this moment OutboundTV wasn't just a platform it was going to be the platform for all sales content.
As we gathered all the videos from the other influencers, the site magically transformed.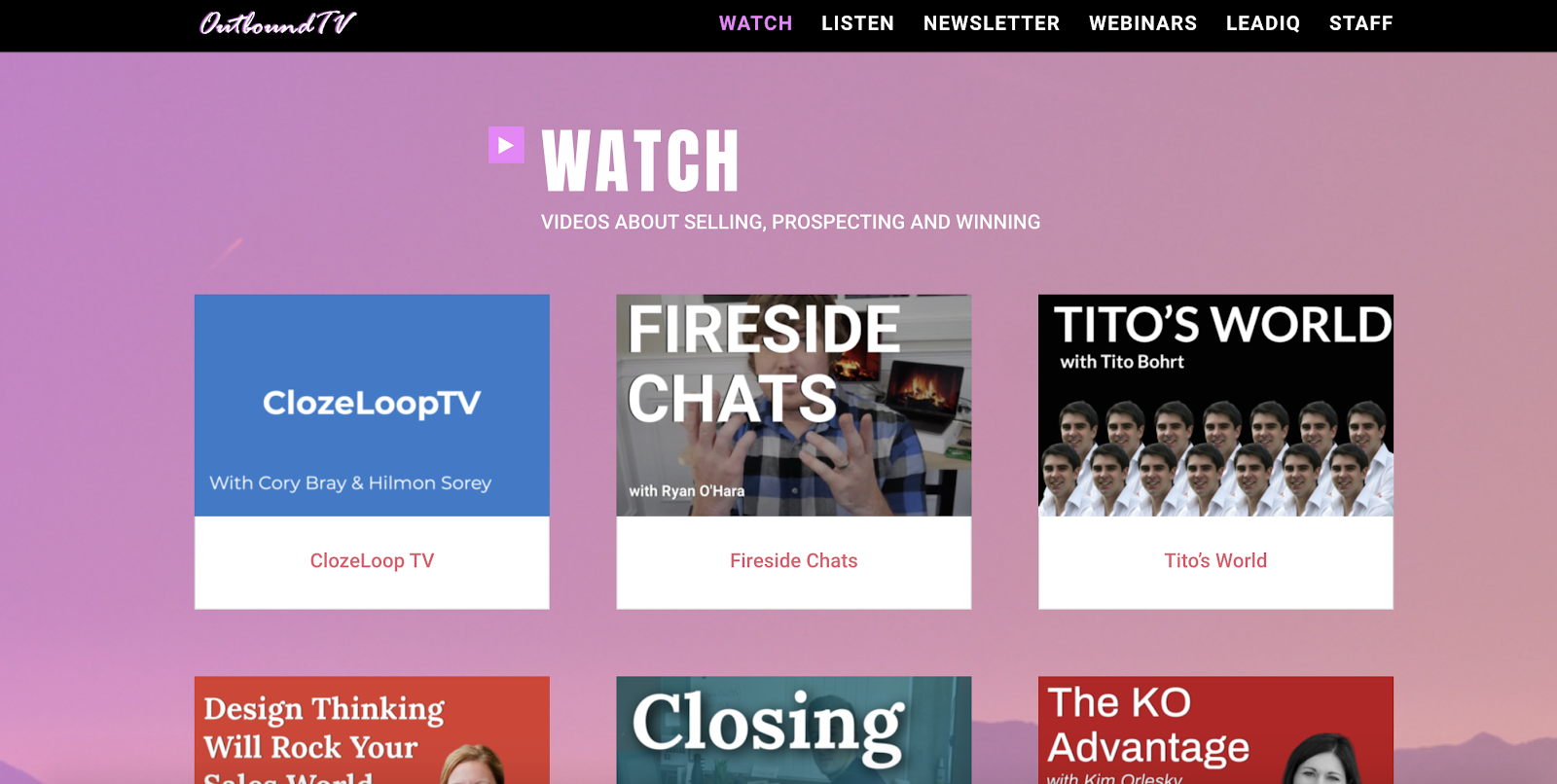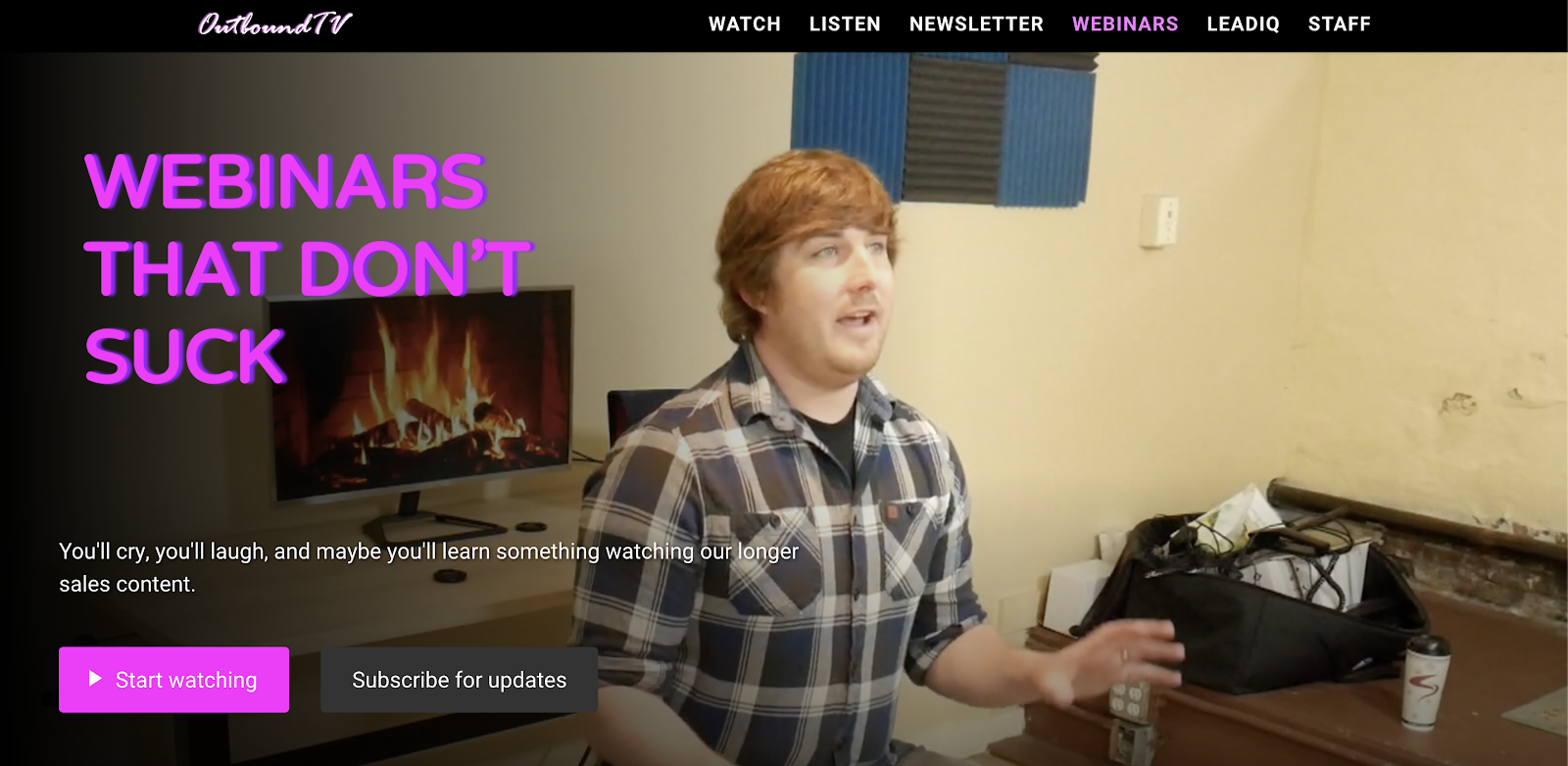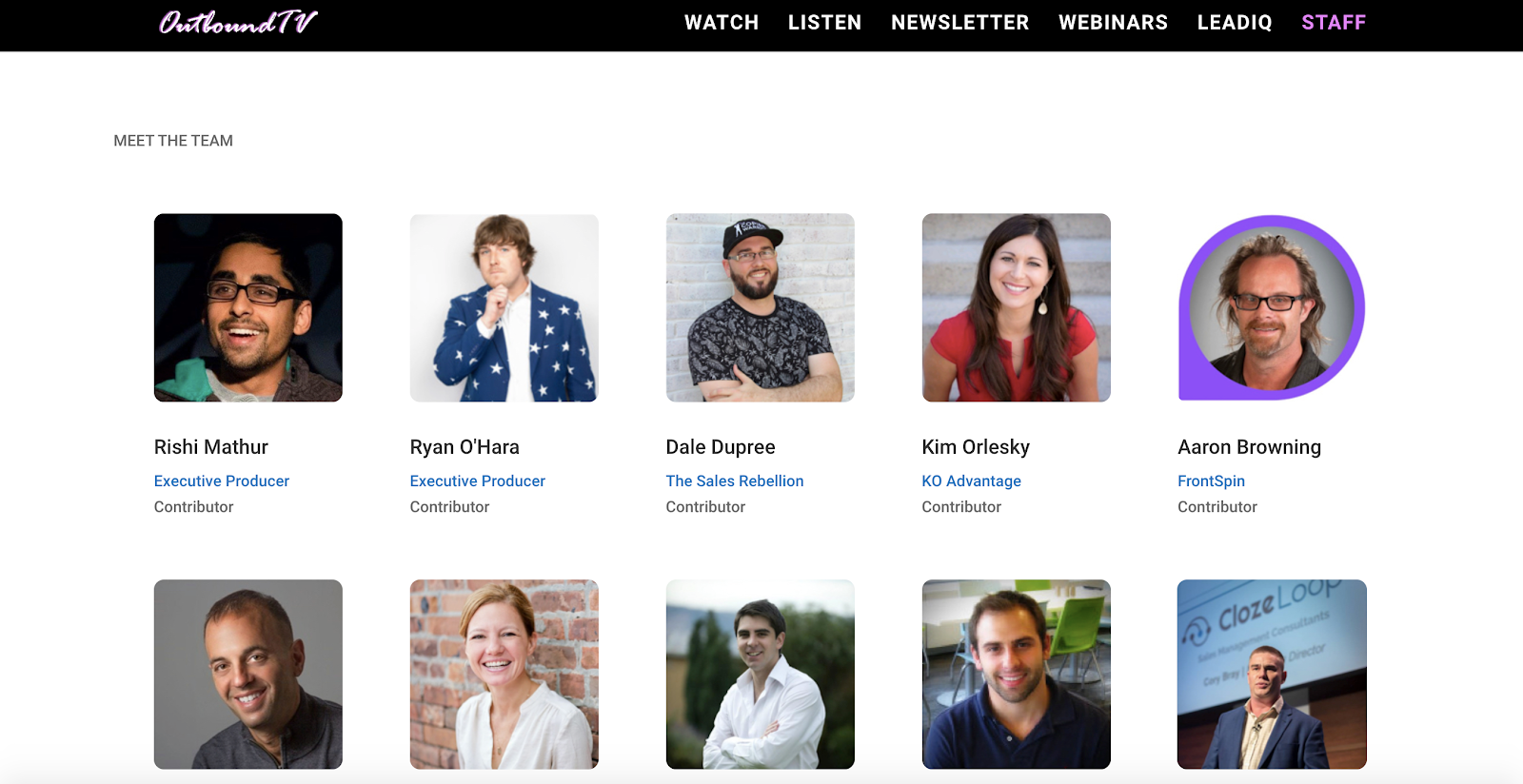 As a fellow content creator, I understand how important viewership is, especially retaining and building a regular audience. We want to reach as many viewers as possible. Not having a platform that is oriented to our best interests is frustrating. OutboundTV gives our viewers sales oriented media, which means more of our videos reaching a wider audience.
They will be more informative, last longer than six seconds, and stay open to it's fans. This platform will help shed light on content creators from other sites whose videos get buried. What will distinguish OutboundTV from other sites is it's focus on not only the creators but on the type of content, we are primarily a video oriented. We know what people want, and a lot of them don't feel like reading more.
OutboundTV will be an interactive public access channel but better quality and brighter faces. This site is going to have a vibe similar to what we watched growing up. It will feel familiar, allowing creativity as well as business.