LinkedIn has over 30 million businesses on the platform and over 675 million monthly users. These numbers are constantly growing. Engagement on the platform has increased by 50%, year over year. LinkedIn is the place for B2B networking.
So, why should sales managers care about this? 50% of LinkedIn members report they are more likely to buy from a company they engage with on LinkedIn. Sales managers need to push their sales reps to become active on LinkedIn. This is a place where they can grab the attention of decision makers. Top sellers - those who close 51% more deals than their peers - say networking platforms (such as LinkedIn) are "very important" to their success.
LinkedIn is a place where your sales reps can connect to their prospects. Where they can share thoughts and insights with other business professionals and those they are prospecting. They have the ability to show them that they aren't just trying to close a deal, but trying to connect to them on a personal level. We have entered the era of social selling.
Social selling isn't all that easy, however. There's a lot more that goes into being seen on LinkedIn. The main factor: LinkedIn's algorthm.
What is LinkedIn's Algorithm?
LinkedIn's algorithm sorts tens of thousands of posts and ranks the most relevant at the top of your feed, based on personal information relevant to your account.
LinkedIn has two major goals with every piece of content they examine on their site:
To prioritize relevant content.
To promote engagement.
Relevancy is more important to LinkedIn than engagements, however they both are very important if you want your post to be featured in the "top" posts section.
You can sort your feed by "Top" posts or "Recent" posts - the default selection is Top posts.
LinkedIn's 3 Ranking Signals
LinkedIn has three broad ranking signals that funnels into what is seen on your feed. Thousands of signals help LinkedIn understand the users preferences, these all fuel into the algorithm. These signals are broken up into three categories.
LinkedIn's 3 categories for their algorithm:
Identify (AKA Personal Connections)
LinkedIn takes implicit and explicit signals into consideration. They take note of where you work, who you work with, who you interacted with directly, and other personal aspects of your profile.
Content (AKA Interest relevance)
This is where they evaluate your post. They look for things like how many times your post was engaged with, what language is it written in, the connection to someone's interests based on the groups they're in, the hashtags, and pages they follow, and what companies, people, or topics are mentioned.
Behavior (AKA Engagement Probability)
The algorithm looks for things like what you have liked/shared in the past and who you interact with most. First the algorithm evaluates the likelihood that you will share, comment, or react to a post. Then it takes into account timely feedback to content creators.
"By inputting these signals into our algorithms, we are able to generate personalized news feeds for every member and ensure they are having the conversations they need to become more productive and successful."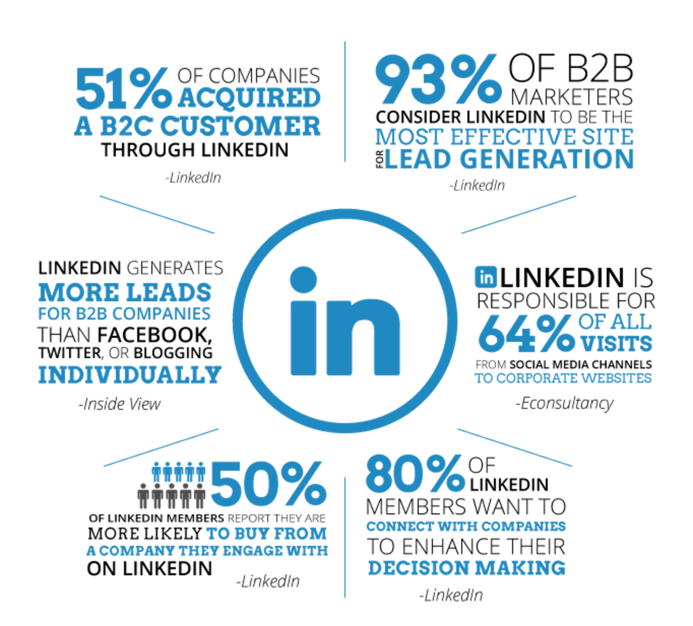 Source
3 Tips from Senior Director of Product Management at LinkedIn, Pete Davies
Encourage Conversations
Niche over broad
Be you
Pete Davies, Senior Director of Product Management at LinkedIn, wrote an interesting article explaining a little about LinkedIn's algorithm. He also shared his insight on how to effectively reach an audience. Let's dive into each.
Encouraging conversations
Davies shares that you should be posting things that encourage responses. Post something with your opinion and ask others what their thoughts and opinions are, give people a reason to engage. The algorithm doesn't favor particular topics or formats, but think of what is relevant at the moment and what would get people talking.
He also shares @mentions go a long way. Tag people who have good insight, have a decent following, and are known to engage.
Niche over broad
Hashtags are important to help the algorithm understand what the content in your post consists of. If you hashtag broad topics such as #management or #marketing, this may fly under LinkedIn's radar. When you choose hashtags around more niche ideas, such as #performancemanagement or #B2Bmarketingstrategies, you will stand out amongst similar posts.
Be you
Davies says "Authenticity is key". All these tips and tricks across the internet will help you get past the barriers of the algorithm, but what really gets people engaging and sharing ideas are when people feel like they can post without judgement. When users share things they care about and share genuine conversations, this leads to stronger connections.
LinkedIn and Social Selling
The truth of the matter is there's no better place to connect with business professionals than on LinkedIn. 65% of salespeople who use social selling fill their pipeline, compared to 47% of reps who do not.
John Barrows is known to be a top sales leader and has great knowledge on social selling. In his blog he shares,
"The two main parts of social selling are
1) listening to the social world for triggers and things happening with our prospects/customers that we can make relevant connections to and
2) building our personal brand so we're seen as more than just a sales rep.
The first part of social selling is absolutely necessary for short and mid-term success in sales. If you're not leveraging the social tools right now to make connections with your clients then you're well on your way to becoming irrelevant.
The second part about building your brand is more of a mid to long term strategy but is becoming increasingly more important to figure out.
Both parts are ultimately about being relevant and adding value."
Daniel Disney also has a great article that goes in detail on how to get started with social selling. He goes over 5 key things to keep in mind to develop a great foundation for social selling.
The 5 components to social selling:
Personal Brand
Network
Content
Conversation
Research
Social selling is part of the future of prospecting. We are moving to a new world of business. It is getting harder and harder to grab the attention of business leaders/decision makers. In today's world, you can find these decision makers on LinkedIn, 4 out of 5 people on LinkedIn "drive business decisions". Social selling, with LinkedIn as your key player, is how sales reps can get their attention.
Here's some advice to get your reps started with social selling.