If 2020 made one thing clear, it's that sales teams need to focus on revenue-generating activities more than ever. As reps research and customize messaging for prospects, sales teams can no longer work with 5+ browser tabs to investigate and update one record.

LeadIQ heard that call, and is ringing in 2021 with a brand new update to make your lives easier! The One Click update will improve the LeadIQ extension to capture net new prospects and update existing matching records on Salesforce.
For users on Enterprise plans, this update will go live on January 19th! (Contact our Sales Team to upgrade or to turn this feature on today!)
What is the Update?
Now with one click, your sales reps will be able to automatically capture new records and update detected existing records in Salesforce, further improving their prospecting workflow. Team admins can configure what fields are eligible to be updated in Salesforce and which are not. Sales teams can protect valuable information, such as source information, while guaranteeing the most up to date and verified contact information for records available.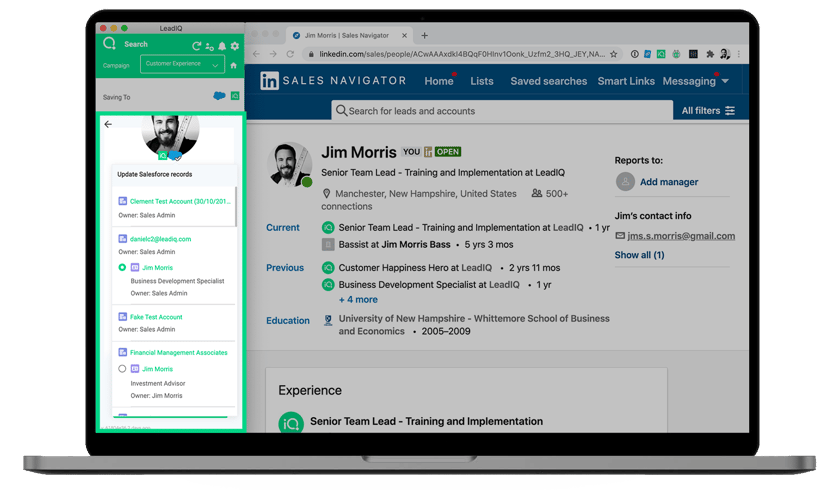 This update gives LeadIQ the ability to update existing records in Salesforce automatically on capture. Users can also see and override LeadIQ's recommendations to pick between records when more than one is found. Simply hover over the blue cloud that appears in the extension. This will be further explained below.
How Does it Work?
Changes For Members:
Automatic Updates: Relevant records are automatically identified and selected for updating on lists or profiles.
Visibility: Hover your mouse over the Salesforce cloud icon to see all records as before, with the addition of knowing which record will be updated when you capture (if any).
Support Overrides: Reps can change the recommended target record, create a new target or skip altogether.
Changes For Team Admins
Granular controls: Turn on the update from the SFDC integration settings in the web app, under the Updating Records tab for both Lead / Contact records
One-click default: Pick between Never Update, Update if Blank, and Always Update for all fields.
Fine-tune settings by specific fields: Choose to update some fields, and not others at the field level.
How will I know if a Record Update Occurs?
When you have Salesforce connected, look for the blue cloud icon.
Blue cloud icon with checkmark means we've located what we believe to be an exact match (name, company, email address) and will update this record for you.
Blue cloud icon (without checkmark) means we've located relevant records, such as an account, contact, or lead. Depending on how relevant, we suggest different updating options.
This is where you will find the Blue cloud with or without a checkmark.
Updating Options
Found a matching contact record.
This is the best case scenario. When LeadIQ identifies a single matching name and company record, we'll pick this option.
Found a matching lead record.
When LeadIQ identifies a single matching name and company record, but with a slightly different visual touch.

Duplicate records are found.
If more than one record is found, we will skip the capture unless you tell us which record to update. For these, you will be notified on the cloud icon with a ⚠️ symbol.

For example, if you captured A Sharma without changing the recommended option, this notification appears in your extension:
"A Sharma" was not captured to SFDC. No record was selected. Select a record from the SFDC icon and capture again.

A matching account found, with no matching person records.
We will recommend creating a new contact in that account.

Similar, but no exact record matches.
LeadIQ will show a similar record. For example, one who shares the same name but at a different company. This is shown for your information.

In the interest of preventing your team members from accidentally updating the wrong records, reps are only able to skip or create a new record when this occurs.

Why is This Update Important?
The One Click update helps sales teams tremendously. Now LeadIQ updates your records for you, giving your reps more time in their day by avoiding manual updates in Salesforce. Your reps can use that extra time time to focus on revenue-generating activities.