First came the gladiators in the Colosseum...then basketball players in the NBA...and now, with much anticipation, comes the results of the final four in LeadIQ's first-ever March Sales Madness! We're excited to share the results of this tournament with you, which highlight the boldest and the brightest sales leaders in the industry. As a reminder of how this tournament works, LeadIQ grouped participants into four different categories: Sales Trainers, Leaders, Vendors, and Practitioners. We crowdsourced all of the participants, and seeding is reflective of the total number of LinkedIn followers. Advancing in the tournament is based solely upon voting results in these online LinkedIn polls only. Voters can follow along and vote for their favorites solely on LinkedIn.

Before we move forward with sharing the highlights and winners from these final rounds, we take a moment to remember the valiant players who participated: a.k.a. March Sales Madness' "Sweet 16."
March Sales Madness' Sweet 16
The competition was fierce in round three, with hundreds of LinkedIn poll votes pouring to determine who would advance. Broken down by category, here are the 16 contestants that participated in this third round:
Trainers
Leaders
Vendors
Practitioners
The Elite Eight Battle
The battle to the Elite Eight was an interesting one. On the Trainers side, Dale Dupree beat out Morgan Ingram with 55% of the total votes, securing his spot in the Final Four. Scott Lease stole the win from Richard Harris with 72% of the total votes for their match-up.

Moving on to the leaders' bracket, Kevin "KD" Dorsey moves on to the Final Four, receiving 64% of votes over Kyle Coleman. Sam Nelson took home 70% of the votes, securing his spot over Larry Long Jr.

Switching to the vendors, Tyler Lessard is moving on over Michael Tuso with 59% of votes. Julianne Thompson is moving on as well, with 61% of votes over Max Altshuler.

Lastly, in the Practitioners category, Sarah Brazier and Jed Mahrle made their way to the Final Four.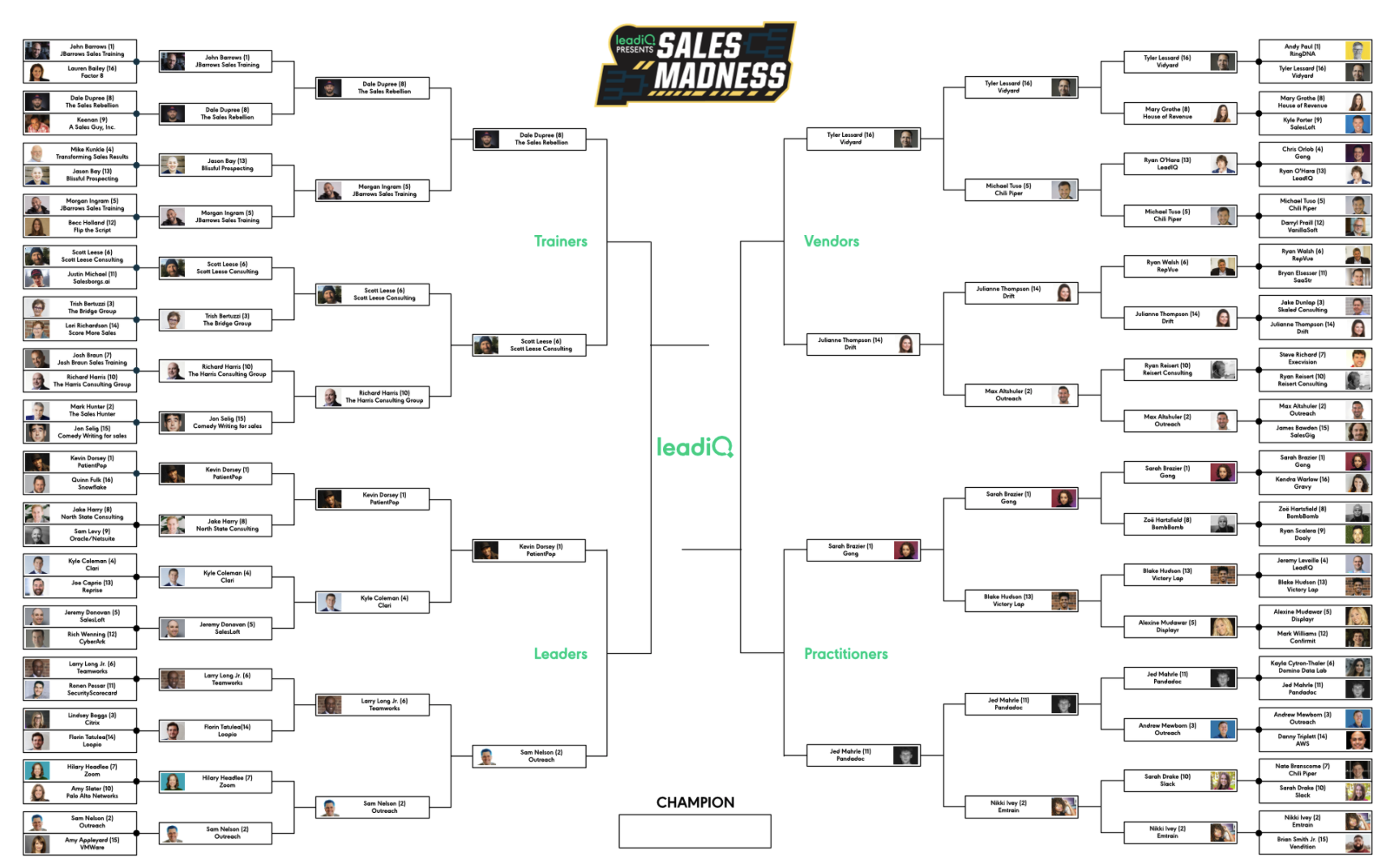 In each category, participants went head-to-head in a battle of LinkedIn counts, eliminating two competitors and leaving two standing. With 4,408 total votes for the Elite Eight, the results by category were:
Trainers
First up on the LinkedIn polls, we saw Seed 8, Dale Dupree against seed 6, Scott Leese. These two went head to head with 1,168 total votes, Dale Dupree took the W with just 6 more votes than Leese. What a match-up!


To set the record straight:

Leaders
A match expected to be neck to neck, seed #1 Kevin "KD" Dorsey, took on seed #2 Sam Nelson. KD secured the win with 52% of the 1,305 votes in his favor.

Vendors
Next, we had #16 Tyler Lessard pitted against seed #14 Julianne Thompson. Julianne secured her spot once again, taking home 54% of the votes.

Practitioners
Last but not least, rounding out the Elite 8, seed #1 Sarah Brazier and seed #11, Jed Mahrle! Sarah secured her spot in the Final Four by taking home 55% of the votes.
The Final Four
We can officially announce the 1st Annual Sales Madness Final Four:
Trainers
Leaders
Vendors
Practitioners
We're getting down to the nitty-gritty for the fight for a winner! Don't forget to follow LeadIQ's LinkedIn page to be up to date on results and to be able to vote for your favorites. Be sure to follow and stay up to date with all the influencers mentioned in this competition - they're all amazing at what they do.

Don't forget to vote and check back for the results!