At some point in your life as an SDR or AE, your boss will ask you to find some new accounts to go after; not just inbound leads, webinar leads, stuff sitting in your CRM, or up-selling existing accounts
Get the account-based edge to crush your quota
Even if your boss doesn't ask, if you really want the edge as that >100% quota-boaster, you need to get specific and targeted with your search. You'll want to find accounts that match not only company size, but perhaps sell B2B products, are at a certain level of investment stage, are in a specific location, have a certain department size that you sell into, or use a specific technology. You'll obviously need to figure out what to search for but I can at least guide you to some free-ish tools that will enable it.
These under-utilized tools are perfect for finding accounts with the filters listed above.
It's free
All of these tools not only have free trials in which you can easily build a hefty, well-targeted account list on, but they do an amazing job of giving you accurate data on them too.
Get a solid kick-start in your prospecting
If you're just kicking off your sales efforts at a startup or trying to fight your way in a new territory at a mature company, these two tools will put you ahead of the curve.
Here's a quick video walk-through: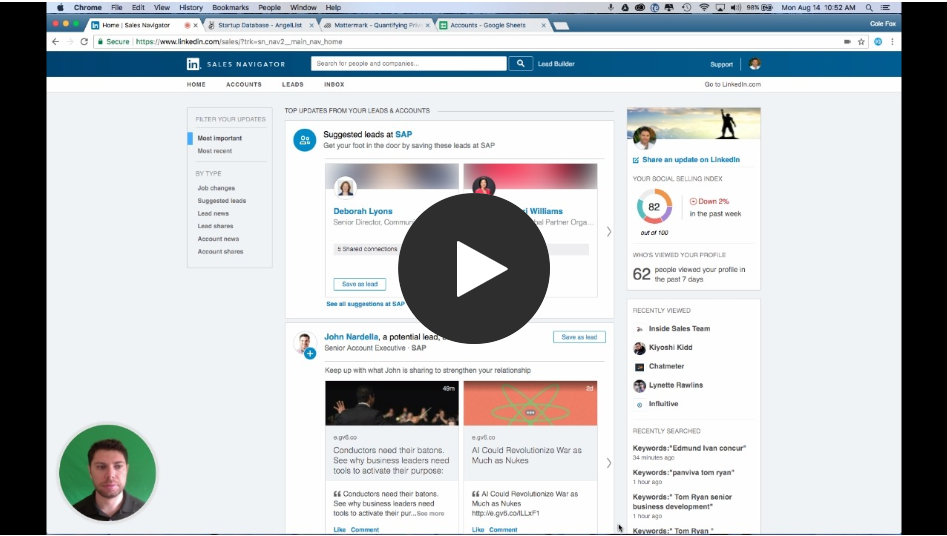 Resources mentioned in the video:
LinkedIn Sales Navigator trial here.
AngelList companies here.
Mattermark trial here.
Webscraper here.