Today I want to talk about our new…(drum roll please) Governance update!
The reason we built the governance feature was so that team admins can finally have more control over how their reps prospect.
Where is the Governance Feature Located?:
Before I dive into the intricacies of the feature, I wanted to first show everyone where the feature is located. The governance feature sits underneath the "Team" tab in the web application.
To access the feature click on "Team" tab, then locate and click on "Settings" and scroll down to "Team Governances"
Now Let's Dive In: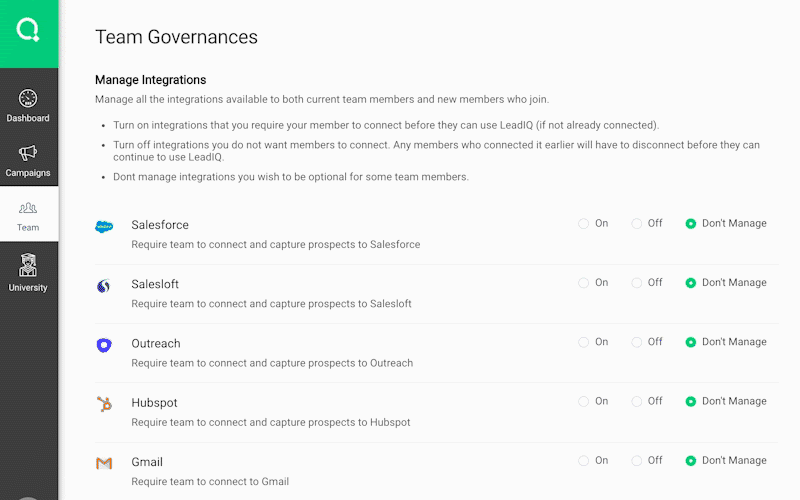 As you can see there are 5 different ways you can use the governance feature:
You can Manage integrations.
You can Manage email qualities.
You can Manage automated data unlock.
You can Block Adding to Other Integrations if Duplicate Found in SFDC.
You can Block Salesloft Duplicates from Being Added to a New Cadence.
In this post we will break down each of the new features so you have a full understanding as to what all is at your disposal.
Manage Integrations: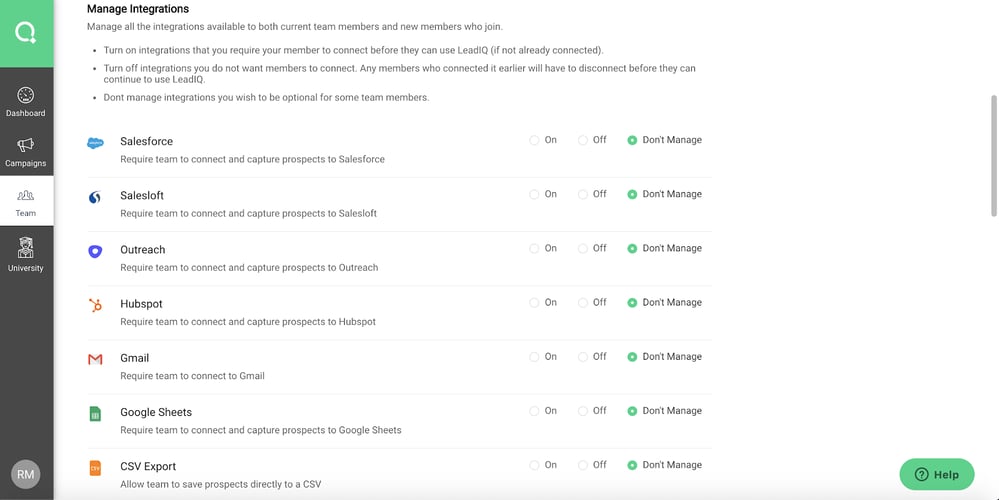 If you want your reps to only push leads to Salesforce and SalesLoft all you have to do is click "On" and your reps will be able to only push contacts to Salesforce and SalesLoft. Any of the integrations you turn on will push leads to those platforms.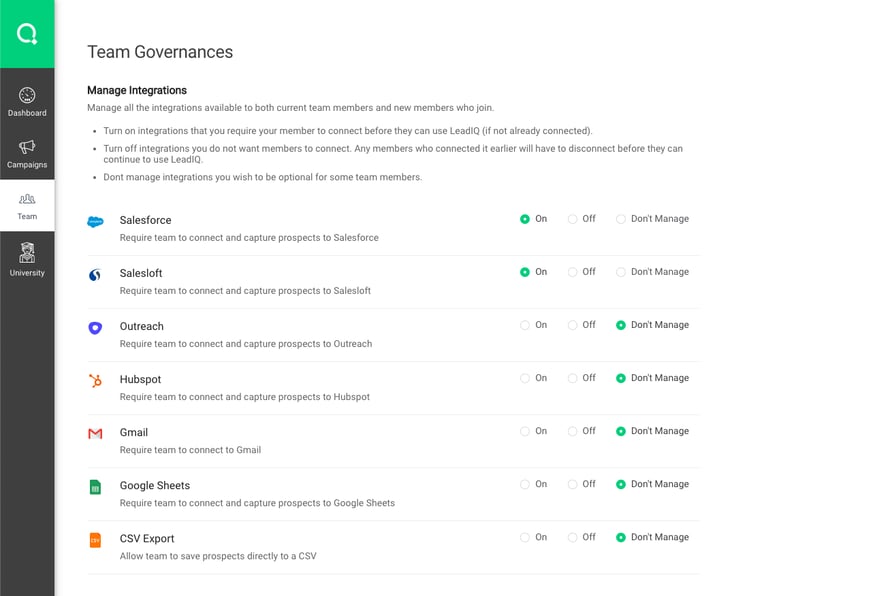 Major key alert: Anything that you don't have turned "On" will make it so that it won't show up on the integrations page.
Manage Email Qualities:
So you have the ability to control the email quality that your reps can prospect.

Right now we have all the verified emails, but if you turn "On" "Best Guess Emails" and "Unverified Emails" then your reps have the ability to push best guess emails and unverified emails as well.
We recommend not push unverified, but this is more along the lines of how you want to prospect.
Manage Automated Data Unlock:
The reason we automated data unlock, is so that your admins can control what types of data get pushed to your system.

As of now, work phones and mobile phones will not get pushed. If you click "On" for mobile phones and work phones they will get pushed to your integrations.
If your accounts have a limit of mobile and personal emails I would recommend toggling this off.
These last two governance features have unique use cases for more information to reach out to your account manager.
So that was a brief overview of our governance feature, this is intended for our admins. So if you're an admin please check this out and give us your feedback.