After about five months of internship experience and three months of working full time for LeadIQ, I was given the opportunity to be in charge of my first event. As a fresh college grad, I learned a ton about putting on an event. If a new college grad can put on their own an event, so can a sales rep.
Today, I thought I'd share my experience putting on my first event, and give a few tips on how you can do the same, without years of event planning experience. Let's jump in.
The event was called RateMyPitch
If you aren't familiar with our RateMyPitch events, it's an opportunity for sales reps to send in their cold emails and have them rated with feedback on how to improve before a live studio audience. Think of it like a sales version of American Idol, only hosted by Rishi Mathur instead of Ryan Seacrest.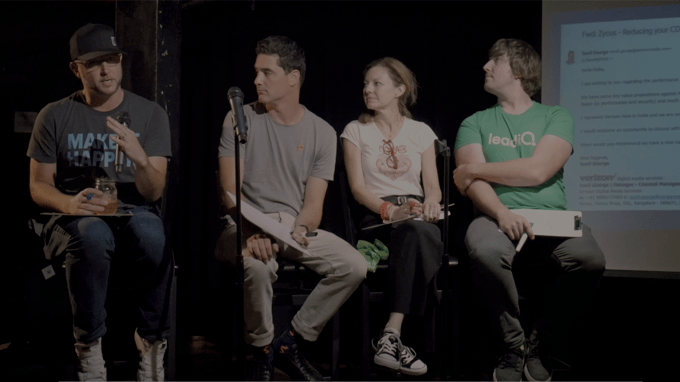 Panelists John Barrows, Nick Casale, Ashley Welsh, and Ryan O'Hara at RateMyPitch Boston.
For this event we had people send in emails for a panel to rate live. It's a lot of fun and you learn a ton.
I was so excited to organize my first event, but to be honest, I didn't know how much there truly was to putting on an event. Not only that, but I happened to be traveling to another country a week before the event… so, definitely not ideal timing.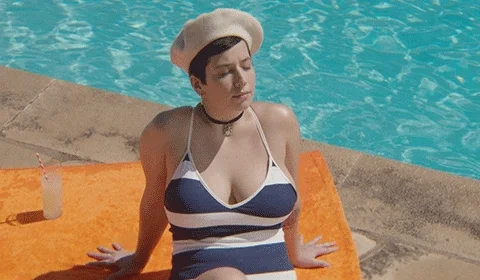 10 things you must accomplish for a successful, stress free event:
Come up with an idea that lets partners shine.
Make a timeline and stick to it.
Use the specific criteria in in your event kickoff document.
Give yourself enough time to plan and execute.
Don't promote if you're not ready to.
Pick your event platform in advance.
Find a spot that fits perfectly for your event.
Pick the right partners/sponsors.
Have only one decision maker.
Don't compete with other conferences/events.
Let's take a deep dive into each of these.
#1. Come up with an idea that lets partners shine
When you are a sales rep, you only have so much time to put on an event. If you want to use the event to prospect and reach out to some target customers, you'll want to have the content/talks/presentations being led by someone else. Look for some speakers your target prospect cares about. Find speakers that can draw people to the event.
Most speakers and influencers will speak at an event for free in exchange for an attendee list, and the option to plug something they are working on.
As a sales rep, you'll likely need to host, so I recommend doing a panel discussion about a topic. Partners don't need to be existing customers or formal partners. They just to be people that go after the same audience.
#2. Make a timeline and stick to it
Something I learned after the event was over was that I went about the whole process backwards. I had went through the details and tried organizing with only making a "to do" list.
Once everything on my list was completed and it was the week of the event, I made a document to share with those on the panel of information about the event and what to expect.
What I learned, after working with Chris Merrill over at JBarrows Sales Training was that I should have made that document first.
I should have wrote down every possible thing that needed to be on the document before I even started executing any plan. A simple to do list won't cut it. Yes, this list is helpful and necessary, but that should not be your starting point. Your to do list should come from the document you initially created.
So, when you start planning an event you should definitely outline what you want to get out of it and make the schedule around that. Make a schedule of everything you need to incorporate, think of details others need to know, etc.
#3. Use the Following Criteria in in your Official Event Kickoff Document
I'm literally ripping this from the documents I use:
Event Name

Logistics

Location

When

About the venue

Venue contact information

Schedule/Agenda

Speakers

Filming (optional)

Setup

Activity

Parking & Directions

Instructions for Panelists

Instructions for for Host

#4. Give Yourself Enough Time to Plan and Execute
Every event differs on how much time you should give yourself to plan and execute. It depends on a number of factors including how big the event is, where the event is, and what type of event it is.
For RateMyPitch, we had just about three weeks to plan, outline, execute, and promote. We came up with the idea hoping to get some traffic from Hubspot's Inbound Conference. Keep in mind, I was out of the office for one week of this three week period. This is not nearly enough time. You need to give events your utmost attention.
My advice for this is to plan, plan, and plan some more. When brainstorming the initial thoughts of throwing an event, roughly estimate how long you will need to get everything done - from planning, organizing, booking, promoting, etc. Do NOT rush events. It leads to everyone being stressed, problems arising, and the possibility of disappointment knowing you could have done it better.
#5. Don't Promote if You're Not Ready To
This one is important. Make sure everything is working properly before you start promoting.
One issue we had was that the form we were using for people registering to submit their emails wasn't working properly. This technical difficulty was, well, difficult. As a result, people signing up did not get the correct instructions for sending in cold emails to get reviewed. I should have done multiple test runs before this form went live.
To do a test run, open your event sign up page in a private or incognito browser and fill it out. Make sure the workflow is exactly how you want it to be.
Once you are 100% ready, you are ready to start promoting the event. Make sure your partners promote as well. Get your partners to post to the sign up form or page for your event.
#6. Pick your Event Platform
If you are a sales rep, you can setup the event using Eventbrite, which can deal with a lot of the things you'll need. For example, sending emails, charging if the event isn't free, or registering attendees are all basic functions you can use Eventbrite for.
If you are trying to do things on the cheap, you can make a TypeForm and use your email prospecting tools to email out to attendees.
#7. Event Spaces Matter. Find a Spot that Fits Perfectly for you
Picking a space isn't as easy as 1-2-3. There's a ton of different criteria that goes into it depending on what kind of event you're throwing. Our issue in this particular case was their projectors. Their screens were not big enough for the context in our slides that we wanted our audience to see. This is something I should have taken note of before booking. Think of every detail, and if possible, go check out the venue ahead of time. If you can't go due to distance or travel, ask the event managers to share a video tour of the space.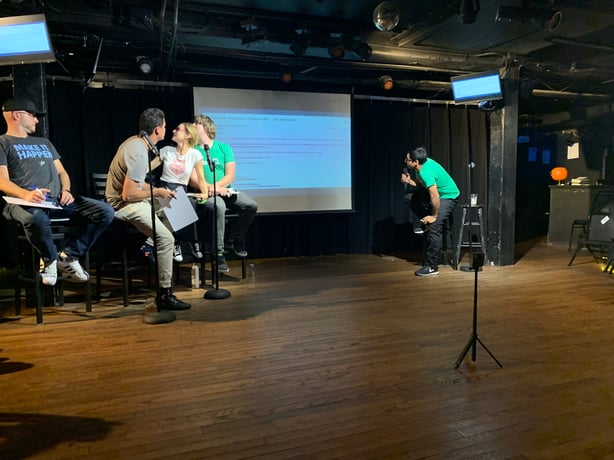 If you take out your magnifying glass and squint, you can just about see the text on the projector screen.
My advice here is to make a checklist for what your space should be for the event and make sure whatever space you chose checks all the boxes. Think of every possible detail. Do a walk through of the space, test out the equipment if necessary etc.
I did a walkthrough, but did not think of checking the projectors.
#8. Pick the Right Sponsors
It's important to choose sponsors that you not only resonate with, but that are similar with your brand as well. People who you have similar interests with and those who you agree with their ideologies.
The other thing to think about is picking a sponsor who can promote and fill seats. Do you have any integration partners that fit nicely with your solution? Are there any companies that go after a similar space?
For this event, Sendoso targets sales and marketing teams, which fit well for us as a partner since we target sales and marketing teams.
#9. Don't Compete with Other Conferences/Events
Our RateMyPitch event was located in Boston, one of the same day as Inbound. Initially, I thought "Hey, there is going to be a lot of foot traffic in the area for XYZ conference, maybe a lot of people would be interested and go to our event".
I mean, don't get me wrong, we had a good turnout, but we definitely could have filled more seats.
It's a good idea to research what's going on around your area the day you are planning to host your own event, or even that entire week. Competing with other conferences will only hurt your attendance if your venue is too far from the other conference. With proper timing, event hijacking can work, but you have to have several months of ramp up to do it.
You want to give time for yourself to prospect attendees and invite them. You want to go to the actual conference and invite others to your event.
#10. Have Only One Decision Maker
This is an area where we struggled a bit with, especially due to my week long absence. We had instances where we collaborated over ideas and each person would reach out to the host of the event space, not knowing the other did. Or one person would have one assumption of something where the other person would have another. It just resulted in confusion and definitely was not the best way to handle the organization of the event.
Pick one person who will be the lead decision maker. This person will collaborate with everyone. They should sign off on all final decisions. This person should have been me, in my case. I was taking lead of the event without being the only decision maker. Others would take over a certain area and make decisions and I let them, I should have taken more authority. Don't fall victim to this mistake!
Recap:
Long story short, a lot goes into planning an event. Even more goes into planning a successful one. Following the 10 things above will save you from making the mistakes I made planning my first event. Oh and checklists are definitely your friend when it comes to event planning. I hope this was useful to you in any way. Now, get after it.